North Korea Summit Diplomacy Should Lead to 4 Party Talks
Thinking China could be left out of talks with North Korea was nothing more than a pipe dream.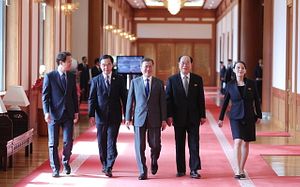 The abrupt and secretive summit between Xi Jinping and Kim Jong-un caught the world by surprise, but it shouldn't have. China is still North Korea's biggest, most important ally. It would be naïve to expect Kim to meet with Moon Jae-in and Donald Trump without first consulting Xi.
Those of us who were taken aback by news of the Xi-Kim summit had been deluding ourselves when we thought that China would not have a major role in the process. Moon's proposal of a trilateral summit between the two Koreas and the United States, undermining China's influence, turned out to be nothing more than a pipe dream.
For the two communist allies, though, the timing for this long overdue summit could not have been better. Aside from the maximized propaganda benefits for both countries, it was an opportunity for Xi to make China's voice heard and to demonstrate its influence in the peace process, and a chance for Kim to ensure Chinese support while entering into talks with sworn enemies.
In early September 2017, after North Korea conducted its sixth nuclear test, the authors predicted in a number of interviews with the South Korean media that the North would soon shift its strategy from aggression to dialogue. We speculated that in six to 12 months North Korea would have gained sufficient confidence thanks to its nuclear and missile developments and would want to use its new status to negotiate with the stakeholders in the region.
This is exactly what happened. Kim knew that it would be impossible for South Korea to turn down his charm offensive with the Winter Olympics just weeks away, and he counted on his progressive counterpart to jump at an opportunity to mend inter-Korean relations. To Kim's pleasant surprise, Moon successfully brokered an unprecedented summit meeting between the sitting leaders of U.S. and North Korea.
In agreeing to meet with the North Korean leader, Trump may have believed that he could deal exclusively and decisively with Kim. The sudden arrival of Mike Pompeo as secretary of state and John Bolton as national security adviser — both of whom are known to be strong hawks — in the lead-up to the talks also signaled to the North that it would be dealing with much tougher counterparts.
Kim's surprise visit to Beijing may pressure Trump to recalculate his strategy. It would be overly ambitious for Trump to think that he could strike some kind of a "grand bargain" directly with Kim and score a victory. The heads of state of the United States and North Korea have never before engaged in talks, and the two countries are clearly not on anywhere near the same page. Kim has reportedly told Xi that he would be willing to denuclearize through "progressive and synchronous" measures, but this directly contradicts what Trump has in mind. It is simply illusory to expect that the Trump-Kim summit will bring the peninsula's nuclear drama to a quick conclusion.
In truth, as much as Kim needs China, so does Trump. It makes sense to involve China early on in the process rather than having to deal with the complexities arising from its intervention afterward. The talks should provide the benefits of identifying possible mutual interests and paving the way to establish a new process to narrow the gaps among the key players. Bringing in China now has turned out to be a rather fortunate move initiated by North Korea.
The series of summits that began with Kim's visit to Beijing should lead to Four Party Talks — involving the two Koreas, the United States, and China. While this is not a new combination of stakeholders, it can yield much greater fruits now than it has in the past — with the top leaders of the four greatest stakeholders more willing than ever to come to the table and give diplomacy a serious try. The Four Party framework can be a more efficient format than the previously pursued Six Party Talks, at least as an initial follow-up step after the North's three back-to-back summit meetings with China, South Korea, and the United States. The four players who together determined the fate of the Korean peninsula in 1953 might be destined to work together again to bring in peace to the region in the 21st century.
Gi-Wook Shin is director of the Shorenstein Asia-Pacific Research Center at Stanford University.
Joyce Lee is a research professional in the Korea Program at the Shorenstein Asia-Pacific Research Center at Stanford University.