Tibet and India's China Policy
Is India sacrificing Tibet to improve a frosty relationship with China?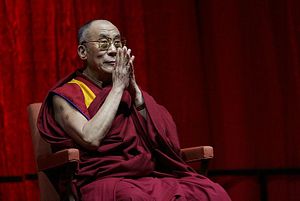 China's foreign policy with India has oscillated between a ballistic approach and studied indifference. India's approach, meanwhile, has recently flipped from a hardline to a conciliatory approach, confusing observers.
At the heart of India-China tensions is the dispute over territory in the Aksai Chin area, and Tawang in the Indian state of Arunachal Pradesh, which China claims as a part of southern Tibet. Both countries have so far held 20 rounds of talks to settle the disputes, but, unfortunately, an acceptable solution has eluded them. To the credit of both sides, they have not allowed the situation to go out of control.
However, the situation took a turn for the worse after the Doklam standoff in summer 2017. In spite of a propaganda blitzkrieg and other intimidating tactics adopted by China, India stood its ground. Although India is not a party to the Doklam dispute — that dispute is between China and the tiny Himalayan country of Bhutan — China's forcible occupation of the area may threaten India's security. Doklam is critical, as it would allow the Chinese troops to enter India through the Siliguri Corridor or "chicken's neck" that links the northeastern states to the rest of India. China's decision to enter Doklam was interpreted as a premeditated move to alter the status quo that had prevailed for decades.
China was surprised by India's tough posture. Eventually, after tense negotiations, both sides withdrew from the sensitive area, thus diffusing what could have led to an ugly conflict.
India realizes that any war with China would not be in its interests, as the Chinese military is far stronger. On the other hand, China also recognizes that a conflict with India would adversely affect its humongous investment made in India's neighborhood and that the best way forward would be to maintain peace along the border.
Apart from the border disputes, another major irritant for China has been over the Dalai Lama, Tibet's spiritual leader, who in 1959 (along with tens of thousands of his disciples) was granted refuge in India, where he enjoys a special status. China considers Dalai Lama a dangerous separatist, who even today has great influence over Tibetans. It must be mentioned that Dalai Lama gave up his support for Tibetan independence in 1974, and only wants China to stop repression against the community.
China did not take kindly to the Dalai Lama's visit to the disputed area of Tawang in Arunachal Pradesh last year. The Chinese termed his visit, particularly to Tawang, a "provocation" by India. India responded that "The government has clearly stated on several occasions that HHDL [His Holiness the Dalai Lama] is a revered religious leader, who is deeply respected as such by the Indian people. No additional color should be ascribed to his religious and spiritual activities and visits to various states of India."
Since then, however, tensions have cooled. There have been several recent developments that were viewed with interest in India. China recently did not oppose the move of the United States to put Pakistan on the "grey list'" of the Financial Action Task Force for funding terror groups like Jaish-e-Mohammed and Lashkar-e-Taiba. China's decision, especially when it has invested billions of dollars in Pakistan under its Belt and Road Initiative, came as a welcome surprise.
Then, in a significant departure from its stated position on the Dalai Lama, New Delhi refused permission to the Central Tibetan Administration to hold the interfaith prayer and "Thank you India" functions in Delhi, which were scheduled to be held on March 31 and April 1. India's foreign secretary, in a note to the cabinet secretary, advised the senior leaders and government functionaries not to participate in the events organized by Tibetan organizations as such a step would further deteriorate India's relations with China.
The note comes as Indian Prime Minister Narendra Modi is scheduled to visit China in June to attend the Shanghai Cooperation Organization summit. Modi is expected to hold talks with the Chinese president on the sidelines of the summit. India does not want any incident that could derail the talks. According to China watchers, this prompted the cancellation of Tibetan events in Delhi.
India's decision has sent confusing signals to the Tibetans, as they have always looked upon India to support their cause. Many experts interpret India's stand as weakness in light of the growing military power of China. According to defense experts, China is continuing to build up its military strength at Doklam and that India is unable to prevent the Chinese from building roads in the sensitive region. It is therefore important that the Indian prime minister takes up the issue with President Xi Jinping and impress on him that if China forcibly builds road in Doklam, it could have serious ramification on India-China relations. To achieve that goal, foreign policy experts worry that Modi may sacrifice the cause of Tibet at the altar of better relations with China.
The ability of India and China to be global powers hinges on forming close economic ties and continuing efforts to engage with one another. This is sine qua non for ushering in peace and stability in the region. It is hoped that the Chinese government will take note of the significant shift in India's policy on the Dalai Lama, and make every effort to improve bilateral ties. China's positive response could persuade India to join the multibillion dollar Belt and Road Initiative. This will go a long way in strengthening relations, especially at a time when both the countries are embarking on their journey to become global powers.
K.S. Venkatachalam is an independent columnist and political commentator.