US, Japan Conduct Anti-Submarine Warfare Drill in South China Sea
A U.S. Navy carrier strike group began a bilateral maritime drill with the Japan Maritime Self Defense Force this week.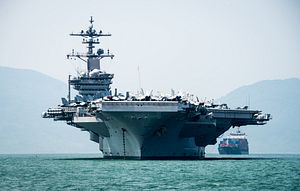 The Carl Vinson Strike Group, led by the Nimitz-class nuclear-powered supercarrier USS Carl Vinson, kicked off a bilateral naval exercise that includes practicing joint anti-submarine warfare (ASW) operations with the Japan Maritime Self Defense Force (JMSDF) in the South China Sea on March 11.
The USS Carl Vinson and the Arleigh Burke-class guided missile destroyer USS Wayne E. Meyer are joined by JS Ise, a Hyūga-class helicopter destroyer displacing 13,950 standard tons, for the duration of the exercise.
The JS Ise sails with three Mitshubishi H-60 Y (60 K/J) ASW helicopters. The helicopter carrier's primary missions include anti-submarine warfare, mine countermeasure, logistics, and search and rescue. The ship can carry a maximum of 18 aircraft.
"As part of the exercise, four JMSDF liaison officers have embarked Carl Vinson to support combined operations," the U.S. said in a March 12 statement. "The operations will include formation steaming as well as anti-submarine and air-defense training. Ise will also conduct a replenishment-at-sea with Carl Vinson."
According to Rear Admiral John Fuller, the USS Carl Vinson Strike Group commander: "Strong maritime partnerships maintain security, stability and prosperity, which the Indo-Pacific region has enjoyed for more than 70 years. Collaborating with a close maritime partner promotes regional cooperation."
The Carl Vinson Strike Group just completed a historic port call in Vietnam's coastal city of Da Nang — the first time a U.S. aircraft carrier has returned to the country since the end of the Vietnam War.
The U.S. Navy and JMSDF are also currently holding an annual bilateral naval exercise, codenamed MultiSail 2018, off the U.S.-owned island of Guam in the northwestern Pacific Ocean. The focus of MultiSail 2018 is also on joint ASW and anti-surface warfare operations and includes live fire training.
The Navy has dispatched the Arleigh Burke-class guided missile destroyers USS Curtis Wilbur, USS Benfold and USS Mustin, as well as the Ticonderoga-class guided missile cruiser USS Antietam to the exercise.
JMSDF is represented by the Akizuki-class destroyer JS Fuyuzuki, specifically designed to protect Hyuga-class and Izumo-class helicopter destroyers as well as their escort vessels.
On March 10, as part of MultiSail 2018, the USS Antietam led a Surface to Air Missile Exercise (SAMEX) that included the firing of a Standard Missiles (SM-2).
"MultiSail uses realistic, shared training scenarios to enhance the ability of the U.S, Navy and JMSDF to work together to confront any contingency," a U.S. Navy press statement reads. "MultiSail prepares forces that will provide the deterrence and stabilizing effects of a force-in-being, ready at the outset of a contingency without delays for buildups or extensive mission rehearsal."