US Navy Secretary: Cost of New Ballistic Missile Sub Is 'Eye Watering'
Total lifetime cost for the U.S. Navy's new class of ballistic missile subs will be around $100 billion, the US Navy secretary said this week.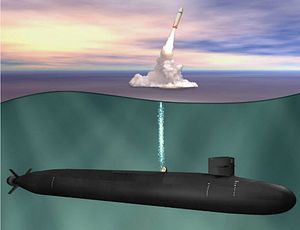 Total lifetime cost for the U.S. Navy's future Columbia-class of nuclear-powered ballistic missile submarines (SSBN) will be around $100 billion, the Secretary of the Navy, Richard V. Spencer, said during a panel discussion on modernizing the U.S. nuclear triad at a Washington-based think tank on March 12.
"All of sudden you're talking about the submarines and there is a number that will make your eyes water. Columbia will be a $100 billion program for its lifetime. We have to do it. I think we have to have big discussions about it," Spencer said, according to the Washington Examiner.
The U.S. Navy seeks a fleet of 12 Columbia-class SSBNs with construction of the first-of-class USS Columbia expected to kick off in 2021. The first Columbia boomer is expected to be delivered to the Navy in 2028. Beginning in 2031, the new class will begin replacing Ohio-class SSBN on a rolling basis.
"The Columbia-class boomers are being designed to replace the 14 Ohio-class submarines currently in service with the U.S. Navy," I wrote earlier this year. "Ohio-class SSBNs are armed with up to 24 Trident II D-5 submarine-launched ballistic missiles fitted with multiple independently targetable reentry vehicles." In 2016, I elaborated on the submarine's technical specifications:
(…) The new sub will displace 20,810 tons when submerged — the largest submarine the U.S. Navy has ever constructed — measure 561 feet (171 meters) in lengths, and have a beam of 43 feet (13 meters). This will make the new class only marginally larger than the Ohio-class with 18,750 tons submerged, 560 feet (170 meters) in lengths, and a beam of 42 feet (13 meters). With a complement of 155, the crew size will also be roughly the same on both [boats].
Other technical details remain murky. The Columbia-class is designed for a 42-year service life and is expected to remain in service until 2085.  The lead boat of the class will cost $14.5 billion, including $5.7 billion in detailed design and nonrecurring engineering costs and $8.8 billion in construction costs, according to the Congressional Research Service. The remaining 11 boomers are estimated to cost around $8 billion in 2017 dollars.
General Dynamics Electric Boat was awarded a $5.1 billion contract to undertake detailed design work for the new Columbia-class in September 2017. This includes a complete design of the new sub, as well as "engineering analysis, component development, detail planning and technical services," as I wrote last year.
In his March 12 remarks, Spencer reiterated the power of the U.S. Navy SSBN force.
"The underwater aspect to date does seem to be the most elusive [to adversaries]." he said. However, "it comes with a price," the Navy secretary added.