Vietnam's President Heads to India: What to Expect
It's time for both countries to push the envelope with their bilateral ties.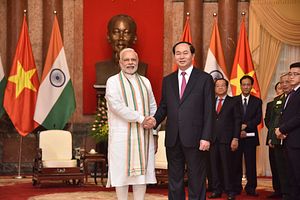 When Vietnamese President Tran Dai Quang arrives in India on March 2, there will be a lot of things on the agenda for both sides. During this visit, India and Vietnam are expected to sign an agreement on civil nuclear cooperation and for the development of a port in Vietnam's Nghệ An province, among others.
Although Vietnam took part in China's Belt and Road Forum in May last year, it still has concerns about China's strategic motives — especially in the South China Sea region. Vietnam disputes China's claims in the South China Sea (along with other countries) while Beijing has objected to the Indian state-owned ONGC (Oil and Natural Gas Corporation) Videsh Limited's oil exploration activities in the South China Sea. While India does not have any claims in the South China Sea, the sea lanes of communication passing through the region are important for its two-way trade with Southeast Asia, East Asia, and Oceania.
One of the mainstays of Indian foreign policy under the Modi government has been its "Act East Policy," which aims to bolster India's closer engagement with Southeast Asia and East Asia. Vietnam is a key element of this policy (known earlier as the "Look East Policy"). Hanoi is important for India's outreach efforts in the Southeast Asian region, besides New Delhi's plans for increasing its connectivity with the members of the Association of Southeast Asian Nations (ASEAN). India is constructing the India-Myanmar-Thailand highway (which is expected to be completed by 2019) and this could be linked up with pre-existing roads, all the way to Vietnam.
Earlier in January this year, the heads of state of all the ASEAN member states attended the Republic Day celebrations in New Delhi, pointing to the closer engagement between India and the ASEAN as well.
The upcoming visit of Vietnamese President Tran Dai Quang to India will be a good follow up to Indian Prime Minister Narendra Modi's visit to Vietnam in 2016. During Modi's visit, among other things, New Delhi extended a Line of Credit of $500 million to Vietnam to buy defense equipment. In addition, the joint statement issued on that occasion noted that "Vietnam and India, as State Parties to the UNCLOS [United Nations Convention on the Law of the Sea], urged all parties to show utmost respect for the UNCLOS, which establishes the international legal order of the seas and oceans."
However, not everything is rosy in this burgeoning relationship. In the economic arena, there is much for the two sides to ponder over. Total trade between New Delhi and Hanoi remains modest, though the two sides have set a bilateral trade target of $15 billion by 2020. Compared to that, Vietnam's trade with China in 2017 stood at $93.8 billion.
In addition, the people-to-people ties between the two countries are still underdeveloped. The Vietnamese president will be visiting Bodh Gaya during this upcoming trip, which is significant given the Buddhist connection between the two countries. However, the number of tourists from Vietnam to India and vice versa is nothing much to crow about.
While some reports suggest that Vietnam is interested in acquiring the BrahMos missile from India, New Delhi seems to be noncommittal at the moment.
In recent years, New Delhi has seen Beijing wade into its neighborhood, whether it be in Nepal, Sri Lanka, or more recently in the Maldives. It will therefore be worthwhile to see if New Delhi can now turn the tables and wade into what has traditionally been seen as Beijing's backyard.
While India's ties with Vietnam have been progressing fast on all fronts, it is important for both the sides to address the challenges confronting the relationship in order for it to reach its full potential.
Rupakjyoti Borah is with the Institute of South Asian Studies at the National University of Singapore. His latest book is The Elephant and the Samurai: Why Japan Can Trust India? He tweets at @rupakj. The views expressed are personal.