What Did the Fourth Indonesia-Russia Security Consultation Achieve?
The two sides held another iteration of their Bilateral Consultative Forum this month.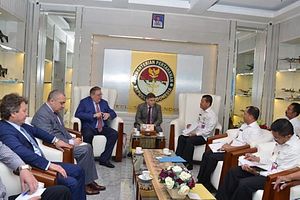 Last week, Russia and Indonesia held the fourth iteration of a bilateral consultative security forum. Though few details were publicly disclosed on what exactly was agreed between the two sides, it once again put the focus on the defense ties between both countries as Russia continues its attempt to boost its influence in the Asia-Pacific in general and Southeast Asia in particular.
As I have noted before in these pages, Russia and Indonesia have long had a defense relationship. Most of the attention tends to be focused around military cooperation as narrowly conceived, with Moscow remaining Jakarta's largest military supplier and new purchases such as the Su-35 fighter jets along with discussions about technology transfer and joint development and production (See: "What's Next for the Indonesia-Russia Fighter Jet Deal?").
But both sides also hold consultations and discuss collaboration on broader functional defense and security issues as well. And one of the mechanisms that had been been set up by both sides is the Bilateral Consultative Forum (FKB) between the Coordinating Ministry for Political, Legal and Security Affairs and Russia's Security Council. Three iterations of these meetings have since been held interchangeably between Russia and Indonesia in 2015, 2016, and 2017.
On March 1, both sides held their Fourth Bilateral Consultative Forum in Jakarta, with Indonesia's Coordinating Minister for Political, Legal, and Security Affairs Wiranto heading the Indonesian delegation and Secretary of Russia's Security Council Nikolay Patrushev leading the Russian delegation.
Both sides discussed a range of legal and security issues during their meeting, which included law enforcement, military technical cooperation, cybersecurity, countering terrorism financing, and strengthening counterterrorism cooperation more generally, with a focus on the handling of the return of foreign terrorist fighters. The two countries also exchanged views on regional and international issues of interest, including the South China Sea and the North Korean nuclear crisis (See: "Why Did Indonesia Just Rename its Part of the South China Sea?").
Few additional details were publicly released by both governments about the meeting. Russia's Security Council said in a press release that particular importance was placed on combating terrorism and countering terrorism financing as well as increasing contacts between their law enforcement agencies, justice departments, and intelligence organizations, but offered few supporting details in this respect.
Patrushev also met with Indonesian President Joko "Jokowi" Widodo during his visit, which came shortly after a separate trip to Thailand in his quick Southeast Asia swing. That leg of the visit saw a similar security focus as well.