Russia Bomber Flight Over Indonesia Highlights Defense Ties
A closer look at the context behind a recent development.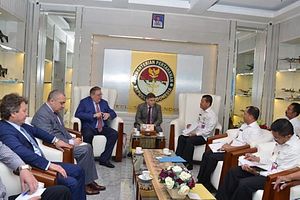 On Monday, news surfaced that Russian strategic bombers and aircraft had flown over Indonesia. The development was just the latest in a series that spotlighted the longstanding defense relationship between Russia and Indonesia as well as Moscow's ongoing efforts to deepen ties with Southeast Asian states in spite the lingering challenges in doing so.
Russia and Indonesia have long had a defense relationship, and Moscow today still remains Jakarta's largest military supplier. Both sides have also been mulling several deals as well as broader advances in defense cooperation recently, looking at not just purchases but also more ambitious areas like technology transfers and joint development and production despite challenges therein (See: "Indonesia, Russia Ink Defense Protocol Amid Fighter Jet Deal").
Of late, as we have seen with a few other Southeast Asian states as well, some of the recent interactions in bilateral ties have been given an even higher profile by Moscow because of wider regional strategic considerations. Russia under Vladimir Putin – ambitious abroad and increasingly isolated from the West — has been looking to boost its presence in the Asia-Pacific, including in Southeast Asia, over the past few years, and Indonesia has unsurprisingly been a part of this conversation.
As an example, just last week, two Russian Pacific Fleet ships – Admiral Panteleyev, a large anti-submarine ship, and Boris Butoma, a large sea tanker – were on a two-day unofficial visit to Indonesia in a voyage that did not receive much international media coverage. During the visit, the two countries held joint drills and Russian sailors interacted with Indonesian personnel in several friendly sports matches and participated in a sightseeing tour.
That was just the latest voyage by the two ships which have been making several stops in the region, including in Brunei for the Golden Jubilee celebration of Sultan Hassanal Bolkiah's accession to the throne – reported as the first visit in more than a quarter-century – a stop in the Philippines where there was a turnover of Russian weapons and Philippine officials, and in Thailand where a series of commemorative activities were being held as the Association of Southeast Asian Nations (ASEAN) marks its 50th anniversary this year (See: "ASEAN's First Naval Exercise in Perspective").
This week, in yet another defense interaction that put the spotlight on the Russia-Indonesia bilateral defense relationship, the Russian defense ministry confirmed on December 5 that two T-95MS strategic bombers and two Il-76MD aircraft had made a flight from Amur region to Biak airfield in course of what it described as an "international visit."
During the flight, the Tu-95MS carried out an in-flight refueling by the Il-78 tankers over the Pacific Ocean, the Russian defense ministry said in a statement. It added that the flight was carried out "in strict accordance with the International Air Law." No further details were provided on the specific nature of the interaction.