What the Arrival of North Korea's 'Special Train' in Beijing Means
Despite the mystery, the apparent North Korean visit sends a clear signal about China's role on the peninsula.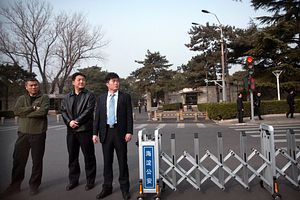 On March 26, a "special train," which had been used by Kim Jong-il for his last visit to China in May 2011, arrived in Beijing. Also referred to as the "No. 1 train," the train had been used frequently by Kim Jong-un's father to visit foreign countries, as  Kim Jong-il was allegedly afraid to travel via airplane for security reasons.
Although the identity of the individuals who arrived on the train is unclear, judging from the fact that the envoy entered Diaoyutai, a Chinese government-owned facility which greets state guests, the North Korean delegation must have involved some high-level officials, or even Kim Jong-un himself.
Sending a North Korean delegation to China at this moment, when summit meetings with South Korea and the United States are being planned, has much significance. China's relationship with North Korea had severely deteriorated since the death of Kim Jong-il. In fact, not one summit meeting between China and North Korea had been held since Kim Jong-un assumed leadership in December 2011.
More recently, as China stood with the global community in its attitude toward North Korea's nuclear capabilities and actively participated in economic sanctions, the special "blood alliance" between North Korea and China seemed to becoming obsolete. Although more than 90 percent of North Korea's trade continues to be done with China, according to research done by the Korea Trade-Investment Promotion Agency (KOTRA), and China still has not cut petroleum supplies to North Korea, China's political ties with North Korea seemed to be wavering.
Even when Kim Jong-un made the surprise decision to meet with South Korean envoys in early March, and summit meetings with the United States and South Korea were discussed, talks with China were not on the docket.
The current visit to China, therefore, is significant regardless of who is in the delegation. It shows that Kim acknowledges China's role in the peninsula ahead of summit meetings with the United States and South Korea in terms of scheduling.
Moreover, the unexpected visit to China also has a striking similarity to events in 2000, when Kim Jong-il visited Beijing just before he held summit meetings with South Korea. At the time, it was Kim Jong-il's first known trip abroad in decades. The timing allowed North Korea to hold summit meetings with China ahead of the planned meeting with South Korea, showing Pyongyang's preferential treatment of Beijing. If history is now repeating itself, it signifies that North Korea's attitude toward China has not wavered despite the apparent weakening alliance.
It may be premature to expect North Korea to reach final reconciliation with the United States and South Korea in the talks to come. However, the apparently rapid movement toward rapprochement North Korea has shown in the past few weeks, with China on the outside looking in, must have worried Chinese and North Korean officials alike. The former would fear being left out and the latter would fear instigating such worries from China. Although China has actively participated in the recent United Nations sanctions against North Korea, it is still Pyongyang's biggest trading partner and investor. If North Korea mistakenly shows an intention to completely distance itself from China and side with the United States, China will not have an incentive to continue to act as a crucial trade partner. Considering North Korea's excessive economic dependency on China, such a contingency would likely bring down the Kim regime.
A Chinese Ministry of Foreign Affairs spokesperson, Hua Chunying, denied any knowledge of a North Korean visit in the regular press briefing on Tuesday. Judging from the bold denial by the Chinese government, despite the rather obvious circumstances, details on who has visited and what was discussed will most likely not be released anytime soon. Yet despite the lack of concrete information, the visit itself does much to reveal China's role and importance in the talks to come.
Yaechan Lee is an M.A. candidate in International Relations at Peking University and holds a B.S. in Economics from Waseda University.