Where Is Indonesia's New A400M Military Aircraft Deal?
New details surfaced this week about one of Jakarta's long-standing plans to purchase transport aircraft.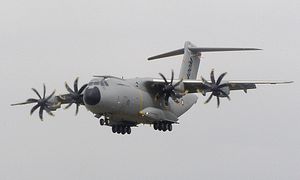 This week, new details surfaced about a longstanding Indonesian plan to purchase transport aircraft. Though specifics remain quite unclear, the news nonetheless shed light once again on Jakarta's struggle to increase its aerial capabilities.
As I have noted before, Indonesia has long been looking to boost its aerial capabilities, which remain quite limited and have been dogged by a series of crashes over the past few years (See: "Can Indonesia Speed Up Its Aircraft Modernization?"). One of the platforms being explored is the A400M, a military transport aircraft manufactured by Airbus. The A400M, which can lift payloads of up to 37 tons and has a range of up to 3,300 kilometers, could be used by Indonesia for various functions, from carrying goods and equipment across the archipelago to basic humanitarian assistance and disaster relief operations.
Though Indonesian defense officials had first suggested a planned acquisition back in 2016, there had subsequently been some ambiguity about whether Jakarta would indeed proceed with the deal as well as how many aircraft it would be looking to purchase. The potential deal had made headlines because it would make Indonesia just the second A400M user in Asia after Malaysia.
Last year, suggestions were that Indonesia would be looking at up to five aircraft in a deal worth around $2 billion. A letter of intent was signed during then-French President Francois Hollande's trip to Indonesia last March, but that covered an unspecified number of aircraft and did not get into details important to the deal such as the shape of industry cooperation agreements. Indonesian officials have subsequently also indicated that the A400M remains a focus, including at the Singapore Air Show earlier this year (See: "What's Next for Indonesia's Aerospace Ambitions in 2018?").
On March 7, specifics of the A400M were discussed in a meeting between Indonesian air force chief Yuyu Sutisna and director of the state-owned Indonesia Trade Company (PT PPI). According to the Indonesian Air Force, Agus Andiyani, the head of PT PPI, said the Ministry of State-Owned Enterprises would hold two units of the A400M.
The acquisition of the A400M was framed in terms of improving the state of logistics in the country and the distribution of goods and services that PT PPI would be charged with. Sustina also said that the Air Force would provide the crew and technicians required to fly and maintain the aircraft as well.
Though this was subsequently reported by some media outlets as being a confirmation of the deal, details of the contract still remain unclear.