Will Mounting Pressure to Sack Finance Minister Aso Spell the End for PM Abe?
Aso's political career hangs by a thread after admitting the ministry tampered with a report on the Moritomo Gakuen scandal.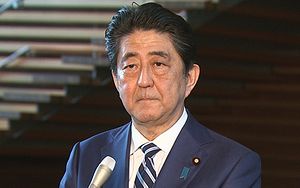 On Monday, Japanese Finance Minister Taro Aso acknowledged that ministry officials had altered sections of a report relating to the heavily discounted sale of state land to school provider Moritomo Gakuen. It emerged that 14 documents implicating senior politicians such as Prime Minister Shinzo Abe, his wife Akie Abe, and Aso were either rewritten or scrapped entirely before being submitted to the Diet.
Osaka-based school provider Moritomo Gakuen, known for its prewar nationalist school curriculum, planned a new primary school on state-owned prime real estate. It paid $1.26 million for land worth $9 million. First Lady Akie Abe was set to be honorary principal but stepped down after widespread allegations of favoritism.
The latest development in the scandal, initially uncovered by Asahi Shimbun, revealed approximately 310 instances of tampering across 78 pages. Before the alteration, the original document — drawn up in February 2015 by a Finance Ministry bureau in Osaka — included comments noting that Akie Abe took a tour of the proposed land and was quoted as saying, "This is good land; please proceed forward." Among numerous other changes, communications from the private secretaries of several politicians regarding the land sale also vanished from the rewritten version.
On Monday, Prime Minister Abe apologized for breaking public trust, saying he assumes "full responsibility." He added that an investigation to clarify the whole picture would be launched to recover public trust. Abe's long term ally Aso, who also serves as deputy prime minister, said on Tuesday that while the discovery is deeply regrettable, he has no intention of resigning. Instead, Aso argued, his position obliges him to "fully investigate the cause of the incident to prevent it from happening again."
Japan has grappled with a recent flurry of government misconduct, from an error-riddled overtime labor survey last month to a cover-up of Japanese troop activity logs during a South Sudan peacekeeping mission last year. But recent developments have pushed fed up constituents over the edge into nationwide political turmoil and public fury.
On Monday and Tuesday, scores of protesters demonstrated outside the National Diet Building in Tokyo for two days straight, bearing placards questioning the state of democracy and demanding Aso and Abe's resignations. Opposition parties have intensified pressure by boycotting parliamentary budget meetings, calling for the entire cabinet to take responsibility and for Aso to step down.
As Abe serves his sixth year in office this year, Koichi Nakano, professor of political science at Sophia University, labels the situation as "Abe-fatigue." He says that Abe's appeal  is running out of steam and his reputation has been discredited far more this time than in previous scandals.
The Abe administration's hopes for their long-awaited labor reform package and a consumer tax hike for 2019 have been dashed beyond damage control. Nakano says it's a matter of when, not if Aso will be forced to step down.
With waning cabinet approval ratings falling to 44 percent,  and Liberal Democratic Party elections to choose a new party leader on the horizon in September, it may be game over for Abe. Nakano says re-electing him as LDP president — and thus prime minister — will be political suicide if he remains visibly unpopular. But there's a high chance Abe will be ousted before September or he may decide to not stand for re-election for fear of embarrassment.
The scandal has already claimed casualties, figuratively and literally. Japan's National Tax Agency Chief Nobuhisa Sagawa, who negotiated the heavily discounted land sale, resigned last Friday, taking responsibility for "causing confusion" during an appearance in a Diet session last year. It also emerged that a government official involved in falsifying paperwork committed suicide last week.
When the Moritomo Gakuen scandal first unfolded in February last year, Abe vowed to step down if there was concrete evidence linking him or his wife to the discounted land price. During a press conference on March 14, Abe maintained his innocence in ordering the cover-up and emphasized that even the original copies do not prove the Abes' involvement. However, Nakano says for the sake of government transparency and accountability, Abe should step down, regardless of whether or not he was behind the tampered documents.
According to Nakano, after the political dust settles, it's only a matter of waiting for the next round of public polls to see if Abe can make it through to become Japan's longest serving prime minister.