A Southern Pacific Base for the Chinese Navy in Vanuatu?
Is China pursuing a naval installation at Vanuatu?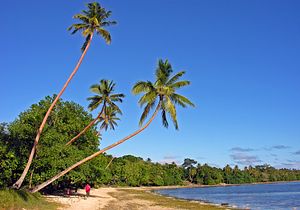 The Sydney Morning Herald reported on Monday that China has formally approached the government of Vanuatu about possibly establishing a permanent military base on its territory.
So far, no one from either the Chinese or Vanuatu governments has gone on record as confirming that talks are underway. (Vanuatu's ambassador to Australia said he wasn't aware of any such talks to the Herald.) But the idea of a Chinese naval installation in the southern Pacific is far from implausible. Beijing has set up its first overseas installation in Djibouti and uses the site to keep up anti-piracy operations for the People's Liberation Army-Navy (PLAN) in the Gulf of Aden and the western Indian Ocean. The base in Djibouti was a direct follow-on from China's 2015 national military strategy, which emphasized that the PLAN would move from its historic near-seas defense role to a that of a global expeditionary navy.
Vanuatu, in particular, has strategic salience for the PLAN, where strategists have, for more than two decades, considered China's options in moving past the so-called first island chain. China's North, East, and South Sea Fleets are boxed in by a chain of nations friendly or allied with the United States—from Japan down to Taiwan and the Philippines, China's access to the western Pacific Ocean could be limited in wartime.
Chinese strategists such as Admiral Liu Huaqing, a commander of the PLAN in the 1980s, was a proponent of China moving past the first island chain and emerging as a full-fledged blue-water naval power in the Pacific, off the back of a major carrier force. Today, China's carrier force is in development, with one carrier, the Liaoning, already operational and others under construction. Analysts expect that China will end up with a carrier force comprising six carriers—three of which may use nuclear propulsion.
A robust naval installation in Vanuatu would serve as an important logistics, replenishment, and maintenance node for a blue-water Chinese fleet. In this regard, it would not only align with longstanding PLAN objectives for the western Pacific, but directly support the PLAN's new expeditionary identity.
Before any of this can be done, however, Vanuatu, a sovereign state, must agree to host China. The Herald notes that "Beijing has been showering Vanuatu, which has a population of about 270,000, with hundreds of millions of dollars in development money and last week committed to building a new official residence for Prime Minister Charlot Salwai as well as other government buildings.
That lines up with China's checkbook diplomacy elsewhere, but it'll take more than that to lead to a naval installation. Vanuatu is unlike Djibouti, which already hosted a range of foreign militaries on its soil, fully leveraging its strategic position. Vanuatu maintains close ties with Australia, New Zealand, and Western European states.
Acquiescing to a Chinese naval installation on its territory, while well within its sovereign right, may carry costs elsewhere. These costs could be borne by China, which might be willing to significantly increase its support for Vanuatu's development should the government acquiesce to a base, but the decision won't be easy.