China-Japan Reset Continues With High-Level Economic Talks
The two sides hope finding common ground on economic issues can help continue a thaw in relations.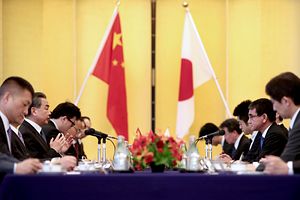 China and Japan have resumed a high-level economic dialogue after an eight-year hiatus, in the latest sign of a thaw in long-strained relations. This week's visit to Tokyo by China's State Councilor and Foreign Minister Wang Yi also locked in plans for further diplomatic exchanges, including Chinese Premier Li Keqiang's travel to Japan for a trilateral summit with Prime Minister Shinzo Abe and South Korean President Moon Jae-in next month. This will pave the way for Abe and President Xi Jinping of China to visit each other's countries at a later date.
At a time of increasing domestic political pressure, Abe has made no secret of his desire to bolster relations with Beijing this year, which marks the 40th anniversary of the Treaty of Peace and Friendship between Japan and China. While there is no shortage of difficult issues, including the territorial dispute in the East China Sea, the countries found some common ground during Monday's economic talks regarding the dangers of a trade war fueled by U.S. President Donald Trump's protectionist instincts.
Japanese Foreign Minister Taro Kono said the countries "share the perception that causing trade wars will have an extremely large impact on the prosperity of the global economy." Wang was reported by state media as saying that Japan and China "should jointly oppose trade protectionism and preserve the multilateral trade system." Japan is yet to gain an exemption from Trump's steel and aluminum tariffs, which were ostensibly adopted on national security grounds and were seen as targeting China.
However, Kono also said it was important to deal with the excess capacity in the steel market. He also took the opportunity to raise long-standing concerns about China's record on intellectual property rights and "proposed that we should enable fair and free technology transfers and exchanges of intellectual property." Kono did not elaborate on what responses he heard from his Chinese counterpart to these points. But he said they both believed it was necessary to speed up work on a free trade agreement involving Japan, China, and South Korea, as well as the larger Regional Comprehensive Economic Partnership, in a bid to integrate the East Asia economic zone. The 13th round of negotiations on an FTA among Japan, China and South Korea was held in Seoul in March, with the next talks expected to take place in China.
The economic dialogue came a day after a foreign ministers' meeting where Japan outlined its conditions for participation in projects associated with China's flagship Belt and Road Initiative. "I stated that Japan could consider cooperation case-by-case for projects that firmly match the standards that are being established internationally, namely taking into consideration international standards and transparency, openness, the soundness of the project and the fiscal soundness of the country accepting the financing, and environmental and social factors," Kono said.
Meanwhile, the dispute over an uninhabited island formation in the East China Sea, which Japan controls and calls the Senkaku Islands, looms as an ongoing difficulty. China calls the islands Diaoyu and argues they are part of its territory. Japan expressed its anger in January when, according to Japanese officials, China sent a nuclear-powered submarine to nearby waters. Kono told reporters on Sunday that he had emphasized to Wang "that there will be no genuine improvement in the Japan-China relations without stability in the East China Sea." The pair reportedly further "confirmed the importance of making the East China Sea a 'sea of peace, cooperation, and friendship.'"
Kono said they intended to work hard to speed up implementation of a maritime and aerial communication mechanism. The discussions come against a backdrop of a 41 percent decline in Japan Air Self-Defense Force fighter jets scrambling in response to People's Liberation Army Air Force aircraft in the 2017 fiscal year, as Franz-Stefan Gady reported for The Diplomat.
North Korea was another topic for important discussions, given the fast-moving developments on the peninsula. Next week will bring a summit between North Korean leader Kim Jong-un and Moon, to be followed by a possible meeting with Trump in May or June. Kim paid a visit to Xi in Beijing recently, and Wang was reportedly eager to brief Kono on the "very positive important changes" in the situation on the peninsula.
The resumption of the high-level economic dialogue has triggered speculation in China about the prospect of improved bilateral ties with Japan. The China Daily argued that trade was a fitting starting point to make a serious attempt at restoring the historically strained relationship: "That the two parties have chosen to repair ties and reopen high-level economic dialogue after such a long hiatus has naturally inspired high hopes in both countries that substantial improvements in broader ties will materialize."