Is This a True Thaw in Sino-Japanese Relations?
Behind the immediate diplomatic détente, distrust and trust in Sino-Japanese relations remain two sides of the same coin.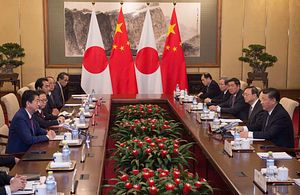 The year 2018 – the 40th Anniversary of the 1978 Treaty of Peace and Friendship – marked a new and expansive phase in Sino-Japanese relations. Regardless of Japan's seemingly half-hearted support of China's audacious vision, the Belt and Road Initiative (BRI), and rising tensions in the East China Sea, by and large the icy relations have seen a thaw. Abe's visit to Beijing in October 2018, the first visit to China by a Japanese prime minister in nearly seven years, followed by the signing of 52 memoranda of cooperation in a wide range of areas, at any rate, shows how the two Asian giants are entering a new era of cooperation rather than competition. Further consolidating the momentum, for the first time the Tokyo Tower lit up in Chinese red to celebrate the Lunar New Year. On the first day of the Chinese year of the pig, Abe took an unprecedented approach of sending a video greeting to the Chinese people in which he reminisced how 2018 had been an important year in the history of Japan-China relations. Abe reiterated that the two countries have "fully returned to the normal track." Chen Yonghua, the Chinese ambassador to Japan responded in a similar tone and highlighted "a new historical starting point" of Sino-Japanese relations that has also led Japanese media to call it rare.
However, even though China and Japan hail a new level to their relationship, there remains a considerable gap between rhetoric and reality, as well as paradoxical effects of any significant moves within Sino-Japanese relations. Why is that the case?
Love-Hate Relationships
While private capital through trade and investment govern the trust between China and Japan, distrust reigns due to both the internal and external political structures. U.S. President Donald Trump weaponizing uncertainty in the U.S.-China trade war has undoubtedly pushed China and Japan closer together in terms of economic cooperation. Accompanied by a Japanese delegation of 500 people from a range of business sectors, Abe's visit to China pledged new commitment to explore third-party markets for infrastructure projects jointly as well as to set up three-year currency swap agreement with China. Likewise, China is set to relax or lift an import ban on food from 10 Japanese areas including Tokyo. At the regional level, two countries have also pledged to speed up the negotiations of the Regional Comprehensive Economic Partnership Agreement (RCEP). To what extent is the recent rapprochement sustainable, both politically and economically?
At the macro level, one should not lose sight of the fact that there has always been a traditional pattern of Chinese diplomacy to turn to Japan (and Europe) when there is an issue in relations with the United States. This trend is compounded by the fact that China and Japan came to an impasse while reaching a consensus in defining the "new historical" starting point. During his visit to Beijing, Abe raised "three principles" that he expected to guide Sino-Japanese relations going forward: First, shifting from competition to collaboration; second, becoming partners instead of threats to each other; and third, developing a free and fair trade regime. Though acknowledging the contents, Beijing refrained from using the "three principles" term when touting a "new chapter" in the bilateral relationship. Chinese reluctance to fully acknowledge the third principle, in particular, simply indicates that Beijing yielded some of its political space to minimize tit-for-tat on the field of play with the United States.
What is more, at the micro level as it has been at other times, the simplified politics using the "Japan card" that have been segued into interest group politics in China and vice versa, remain intact. For instance, prior to and after the Abe's visit, instead of discussing the essence of the "new historical starting point" like prospective joint investments in infrastructure in third countries, the bottom line of public discussion on a vast scale tended more toward a series of flashbacks on Japan's China ODA policy which somewhat exploited by particular interest groups. A recent Chinese-edition of the Global Times inflamed that it is rather China that had been generous by not insisting on war reparations and thus paved the way for Japanese companies and goods during the reform and opening period. In other words, while China acknowledged ODA's contribution to its remarkable economic growth, Japan should be more thankful for having been a beneficiary of China's development.
Accordingly, when it comes to Japan, perception and approach toward China's rising influence invariably come to mesh with double-layered forces, namely gaiatsu (foreign pressure) mainly from the United States and naiatsu (internal pressure) from domestic groups. On the one hand, the alleged characteristics of Japanese defensive nature on the U.S. gaiatsu might be a thorn amidst the diplomatic détente. Only one month after the state visit, following a decision by the the United States to prohibit government purchases of Huawei telecommunication products, Japan also revised its internal rules on procurement and effectively excluded Huawei and ZTE. On the other hand, the gap between rhetoric and reality of Sino-Japanese relations has been increasingly deepening due to the incongruences of naiatsu-led policies that consequently raised two-fold problems.
Falling into the Inconsistency Trap
Japan in the contemporary era of a top-down leadership guided by the prime minister's office (kantei-syudou 官邸主導) could have broken away from the long-standing fragmented bureaucratic-led policymaking process (kanryou-syudou 官僚主導) particularly pertaining to Japan's China policy. By contrast, it seems that Japan in fact has experienced serious setbacks due to an unprecedented dissent and competing interests within inner circle of policymakers, both in kantei and kanryou – illustrating how policy associated with China's BRI have become much more complicated, politically dynamic, if not inconsistent. Bureaucrats from the Ministry of Economic, Trade, and Industry (METI) occupying most of the key Kantei posts find hard to reach consensus with their counterparts from the Ministry of Foreign Affairs (MOFA). METI whose primary interest has revolved around Japan's participation in the BRI so as to courting regional infrastructure development has been voicing different stances than the MOFA which is stridently protective of its bureaucratic turf in supporting the free and open Indo-Pacific (FOIP) vision. Adding complexity, Abe's personnel policy has been swayed by a faction led by Takaya Imai and Toshihiro Nikai appeared to pit against the camp anxious about security. Imai, an executive secretary to the prime minister and former METI official, who was directly appointed by Abe, has been considered the driving force behind Abe's pragmatic moves on China. Imai even confessed that he is the one who rewrote the content of a personal letter from Abe to Xi in 2018, including the passage highlighting Japan's conditional support for the BRI. During his visit to Beijing, as cited by the the People's Daily, Abe even clearly mentioned the BRI as "promising." This touched the nerve of some key groups in MOFA; just as a Chinese expert Shin Kawashima skeptically points out that Japan's attempts to steer China towards such "global standard" would never readily be accepted by China.
In short, vested interests cliques have clearly intruded into the foreign policy structure, which has resulted in the peculiar features of contemporary Japan's China policy. The double stances of Japan – drifting toward a more pragmatic and proactive policy at the same time – raise doubts over the longevity of Sino-Japanese diplomatic détente.
Hot Politics, Cold Economics
Relatedly, the dawning recognition that Japan and China had done well economically under the long-standing paradigm, "cold politics, hot economics" (seirei keinetsu) may now be reversed. The current relationship seems rather "hot politics, cold economics" (seinetsu keirei). As mentioned above, while Japan now has practically accepted China's BRI, albeit with several conditions, the seemingly-enthusiastic business sectors are pondering 52 infrastructure projects. By and large, it is because Japanese business and Chinese SOEs, two key pillars of infrastructure collaboration, are completely and diametrically opposed in their views and perceptions about the long-term investment risks. Japan holding back a consortium with a Chinese counterpart for a $6.9 billion Thailand rail project last December epitomizes this kind of "hot politics and cold economics" on the infrastructure nexus. Although it was expected to be a symbolic model of joint project from various accounts, the 220 km rail project linking the three main airports of Suvarnabhumi, Don Mueang, and U-Tapao in one hour as well as part of core infrastructure projects in Thailand – the Eastern Economic Corridor, was apparently dismissed from the memorandum of cooperation on 52 joint projects signed. The Thai conglomerate, Charoen Pokphand (CP) Group and the China Railway Construction Company, initially planned to collaborate with Japanese firms like Itochu Cooperation and Hitachi supported by the JBIC for the project. Nevertheless, just as happened in the case of Jakarta-Bandung high-speed railway, the Thai government refused to provide a government guarantee and disagreed on Japan's second proposal of a semi-high speed rail to minimize construction costs. Eventually, Itochu and Hitachi opted out of the projects. Another Japanese key stakeholder in the railway business, the Japan Railway Group is reluctant to take numerous high-risk projects even as they are simultaneously focusing on Indian high-speed railway projects.
What can be implied from this case is the fact that Sino-Japanese collaboration in the infrastructure realm, which ought to be the key pillar of two countries' mending relations, instead turned out to be an extra headwind regardless of a fair political wind. Indeed, the basis of policy paradigm currently underpinning two Asian giants' relationships is at a crossroad.
A Silver Lining?
Behind the immediate outlook of diplomatic détente, distrust and trust in Sino-Japanese relations are always two sides of the same coin. On the cusp of Sino-Japanese extensive cooperation, the political economy ground is riven with many contradictions and incongruences at all levels, both in Japan and China. It appears that any further developments will have to wait until the expected Xi's 2019 Japan visit, his first visit to Japan as China's leader. Will we witness two cheers between Abe and Xi at the G-20 Summit in Osaka as well as Crown Prince Naruhito's accession in 2019? Will the meeting coincide with another paradox?
Trissia Wijaya is a PhD Candidate at the Asia Research Centre, Murdoch University. Her research interests primarily lie in ASEAN-China-Japan relations, state-business relationship, and political economy in East Asia.
Yuma Osaki is a PhD Candidate at the Graduate School of Law, Doshisha University. His research interests are in International Political Economy in the Asia-Pacific region, theoretical and empirical study of regional integration, international trade governance, and foreign policy in Japan and Australia.