China's Moves in Vanuatu: What Should Australia Do?
Amid rumors of a military base, Australia must understand – and deal with – China's growing interests in the South Pacific.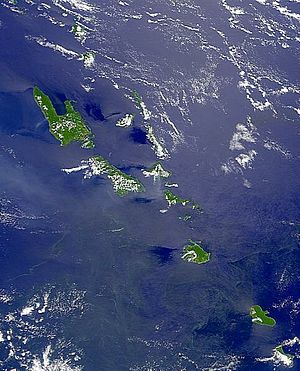 Australia woke up on Tuesday morning to extraordinary reports that China had made an informal approach to Vanuatu to establish some type of naval or military presence in that tiny island state. This set off big alarm bells for Australians, who since the bloody battles of 1942-45 have successfully managed to avoid the militarization of the South Pacific by major powers.
These reports were flatly denied by the government of Vanuatu and by Beijing. Indeed, for several reasons, we should be skeptical about whether China would want to establish a military base in the South Pacific in the foreseeable future. But China does have growing interests in the region — which Australia needs to understand and do its best to help manage.
Over the last few years, we have seen China actively seeking to expand its naval and military presence throughout the Indo-Pacific, and across the world. This has included credible reports of approaches by China to local governments to establish naval or military facilities in locations as diverse as Timor-Leste, the Azores islands (Portugal) in the middle of the North Atlantic, Walvis Bay (Namibia) in the South Atlantic, Gwadar (Pakistan), and Djibouti (in East Africa). There have probably been other approaches by Beijing that have not yet come to public light. Of all these, China has only actually established a base in Djibouti, but we will likely see some further action in Pakistan in coming months.
The remarkable range of these locations is a real demonstration of the breadth of China's strategic interests right across the world. Beijing has concerns about protecting its sea lines of communication through Southeast Asia and from the Persian Gulf, but its interests go far beyond that. These include the security of trading routes in the Atlantic. China's approach in Namibia, for example, was about protecting China's energy imports from West Africa (which as of early 2018 comprised some 15-20 percent of its total oil imports). The Djibouti base is not only about China's maritime security interests in the Gulf of Aden, but also China's security interests across the Middle East and Africa.
China may be seeking to establish facilities as and where the opportunity arises, whether in countries that seek a Chinese security guarantee (e.g. Pakistan), poor states needing investment, or in response to the retrenchment of U.S. facilities (as was the case with the Azores).
But even where China's request has been granted it is possible to limit the nature of its presence. For example, Djibouti, in consultation with the United States, limited the terms of the Chinese base to non-fixed wing aircraft – which helped to assuage the concerns of other countries.
How then should we understand China's reported interest in Vanuatu? A look at the map shows that Vanuatu is located many thousands of kilometers away from any significant sea lines of communication that China would seriously need to protect. China doesn't need to protect its trade routes to New Zealand. Talk of "outflanking" the first and second island chains or the U.S. naval base in Guam (some 4,000 km from Vanuatu) also seem unlikely.
Nevertheless, in coming years China will have growing interests in the South Pacific, which will likely include a security element. One important set of interests will include the protection of Chinese nationals and businesses in the region.
We are seeing very large numbers of Chinese nationals moving to Africa, the Middle East, and Pakistan either as temporary workers or as economic immigrants. It is estimated that there are more than 1 million recent Chinese economic migrants in Africa, and in coming years there may be hundreds of thousands of Chinese workers moving to Pakistan. We will probably also see a surge in people and businesses in the South Pacific, although on a much smaller scale.
The protection of Chinese nationals (and potentially also non-PRC nationals of the Chinese diaspora) and their businesses in unstable or dangerous places will become an increasingly important imperative for Beijing in coming years, particularly as nationalist voices of Chinese netizens grow in strength at home. Public pressure from the families of Chinese passengers was a big factor in China's considerable contribution toward the search for Malaysian Airlines MH370 in 2014.
Major evacuations of Chinese nationals from civil conflicts around the world are becoming a regular occurrence. In 2015, hundreds were evacuated from Yemen. In 2011, China organized the evacuation of some 35,000 Chinese nationals and 2,100 other nationals from Libya on chartered vessels protected by the Chinese navy and on Chinese military and civil aircraft.
In the South Pacific, China has evacuated hundreds of Chinese nationals from each of the Solomon Islands, Timor-Leste, and Tonga. The 2006 riots in Solomon Islands and Tonga involved attacks on businesses owned by Chinese nationals and diaspora. It is not hard to envisage that incidents like this could easily grow in size and intensity as China's presence in the South Pacific grows.
These imperatives, and others, may give China reason to seek secure access to local facilities in the event of a crisis. Just as Australia has kept a close eye on its citizens in Fiji during past crises in that country, China might even potentially feel impelled to provide on-ground security where local governments are unable to do so.
Whether or not this reported proposal in Vanuatu comes to pass (and it seems less likely than more), Australia needs to better understand – and deal with – China's growing interests in the South Pacific. If Australia sees itself as a regional leader, then it needs to show leadership in avoiding militarization of South Pacific. Rather than hoping to lock China out, Australia should be exploring ways of working with China that address some of its concerns in a manner that does not adversely affect Australia's clear strategic interests. These issues are not going to go away.
David Brewster is a Senior Research Fellow with the National Security College, Australian National University where he works on Indian Ocean and Indo-Pacific maritime security.