Do US-China Economic Relations Have a Bright Future Under Xi?
Xi, with his power more secure than ever, might pursue the kind of economic changes that the U.S. has been pushing for.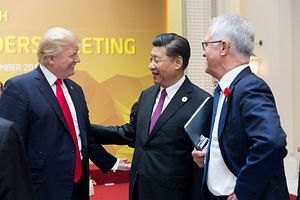 Few would question that Chinese President Xi Jinping is the most powerful Chinese leader since Deng Xiaoping, or even since Mao Zedong. Since China's recent constitutional amendment on presidential term limits, many analysts and commentators have emphasized the negative side effects of the potential for Xi to serve three terms or more as president – which has yet to be confirmed and is not even the most powerful position in China's party-state. On the bright side, Xi's growth in power could benefit the U.S.-China economic relationship, especially at a time when it is under so much strain. Xi's presidency could actually lead to a freer and more open Chinese economy that will reduce tension with the United States.
Already, the appointment of a few key officials reveals Xi's desire to seriously reform China's economy and guide it to a place that would prove more beneficial to the United States.
Xi ally Wang Qishan's election to the vice presidency, the second highest ceremonial post in China, serves as a powerful symbol to corrupt leaders entrenched in China's companies and the Chinese national and local governments. His election means that Xi has recommitted to clamping down on graft and corruption.
Corrupt officials in both the government and business realms can prevent or stifle policies necessary to structurally reform China's economy and make it freer and supportive of intellectual property rights. By reinvigorating and emphasizing anti-corruption efforts, Xi may be able to more effectively remove obstacles to economic reforms. Should reforms become easier to implement, China will be one step closer to both a more stable growth-oriented economy and a market more open to U.S. businesses.
Western-educated Liu He's new position as vice premier in charge of the economy is also indicative of Xi's focus on economic reform as a primary objective. Liu is not only well educated and a Xi ally, but experienced in economic affairs, including U.S.-China economic relations. He is also very aware of China's structural problems, making it more likely that Xi will be able to implement serious economic policies that will improve the Chinese economy and benefit the United States.
Yi Gang, another Western-educated advocate of a more open economy, was recently promoted from deputy governor to governor of the People's Bank of China, the Chinese central bank. Yi's appointment further shows that Xi is dedicated to economic reforms that are more conducive to competition from U.S. companies, especially as Yi is believed to agree with his predecessor's attempts to "open up [China] to more foreign investment."
The appointments of Western-educated and reform-minded individuals are not the only potential indicators of substantive economic reforms during Xi Jinping's tenure. If Xi's rhetoric and promises are any indication of China's economic trajectory, then Washington stands to benefit and improve its ties with Beijing.
For example, at the Boao Forum for Asia on April 9, Xi pledged to reduce tariffs on products such as automobiles. He also said that China would further open its financial sector and raise foreign ownership limits in the manufacturing of cars, ships, and aircraft "as soon as possible." These words were followed by a rise in the U.S. dollar and positive jolt to a number of stock markets.
Although just a single statement, Xi's Boao Forum speech follows a distinct pattern of rhetoric on reforming and opening the Chinese economy. These speeches have been public pronouncements to China and the world, which could tie Xi's hands in the eyes of the Chinese people and force him to make good on his promises. Such action would go well beyond pleasing U.S. businesses and government officials through real reform by also benefiting the Chinese economy. Xi's growth in power may actually lead to a concurrent increase in his ability to turn rhetoric into policy.
Finally, should Xi Jinping remain paramount leader beyond two terms, his presence could provide a degree of predictability and stability for the Chinese market and U.S.-China economic relations.
Businesses prefer stable and predictable politics, as risk can be reduced and more easily mitigated. Moreover, stability allows officials at the U.S. Departments of the Treasury and Commerce, as well as staffers at the Office of the U.S. Trade Representative, to garner a wealth of institutional knowledge and experience about dealing with their Chinese counterparts and Chinese policies. This can only serve to benefit the U.S.-China relationship, as well as efforts to pursue U.S. economic policy goals in China.  
Instead of lamenting the possible end of collective leadership, the United States should be looking at the positive aspects of three or more terms of Xi Jinping's leadership. With his Western-educated and market-oriented allies in key posts managing the economy, pledges to further open the Chinese market, and the potential for stability and predictability, Xi is well positioned to push through reforms that the United States and its business community have long desired. In the 40th year of "reform and opening up," U.S.-China economic relations may have a bright future under Xi.
Quinn Marschik is the assistant director of the Center for the National Interest.