Pakistan Tests Enhanced-Range Variant of Babur Nuclear-Capable Land-Attack Cruise Missile
The Pakistani military claims the new Babur-IB variant has a range of 700 kilometers.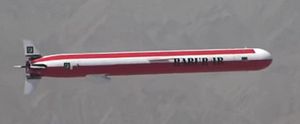 On Saturday, Pakistan carried out what it said was a successful flight test of a range-enhanced, ground-launched Babur subsonic cruise missile.
According to a statement released by Pakistan's Inter-Services Public Relations (ISPR), the missile tested was an "enhanced range version of the indigenously developed Babur Cruise Missile."
Dubbed the Babur Weapon System-1 (B), the missile, per ISPR, "incorporates advanced aerodynamics and avionics that can strike targets both at land and sea with high accuracy, at a range of 700 kilometers."
The range enhancement is a considerable improvement over the first-generation Babur-I land-attack cruise missile, which the U.S. intelligence community assessed to have a range of 350 kilometers in 2013.
Even though the latest ISPR statement states that the Babur's range has been enhanced to 700 kilometer with the IB variant, previous Pakistani military press releases touted the missile's range at 700 kilometers as well.
The Babur family of cruise missiles are capable of delivering both conventional and nuclear payloads.
Starting in January 2017, Pakistan has also been tested a submarine-launched variant of the Babur, the Babur-III, which has seen two flight tests to date, with the most recent test taking place in March 2018.
While the Babur system is nuclear-capable, ISPR's statement regarding Saturday's launch made no mention of the missile's nuclear capability. The statement noted that the missile would be "an important force multiplier for Pakistan's strategic deterrence."
The Pakistani military released a video of latest Babur test. The video shows the missile's ejection from a transporter-based four-cell launcher and footage of its air-breathing turbofan flight.
The land-based Babur uses what the Pakistani military has dubbed a "multi-tube missile launch vehicle," which is a mobile transporter-erector-launcher.
Pakistan is thought to possess approximately 12 launch vehicles for the Babur. The system is believed to have been deployed in 2014.