South China Sea: China Deploys Jamming Equipment
New imagery shows a suspected deployment of electronic warfare equipment to the Spratlys.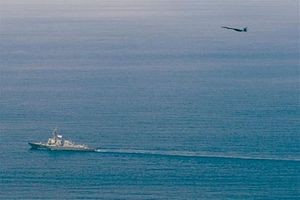 According to U.S. military officials, China has deployed communications and radar jamming equipment to Fiery Cross Reef in the Spratly group in the South China Sea. The deployment took place during the last 90 days, according to U.S. intelligence.
First reported by the Wall Street Journal, the deployment marks a significant capability improvement for the Chinese military in the South China Sea. Fiery Cross Reef is the site of one of China's seven artificial island facilities in the Spratlys.
The U.S. military commissioned commercial satellite imagery from DigitalGlobe to point out the deployment to reporters with the Journal. "China has deployed military jamming equipment to its Spratly Island outposts," one Pentagon official told the reporters.
One of the images, which the Journal has featured on its website, appears to show jamming equipment with an erected antenna mast.
It's unclear if the U.S. assessment is backed by other forms of intelligence or imagery alone; the resolution of the commercial imagery is insufficient to definitively substantiate the nature of the equipment, but the U.S. military added an inset showing the kind of equipment it expects has been deployed.
The deployment of electronic warfare assets to the Spratlys would be in line with recent trends in Chinese behavior in the South China Sea.
China has slowly and steadily militarized its seven artificial island facilities, adding everything from over-the-horizon radar sites to close-in weapon systems and hangars for future fighter deployments.
From 2014, when the artificial islands first became known, to around late 2016, China mostly developed dual-use infrastructure on these islands with some degree of plausible deniability about their potential military applications.
Since late 2016, however, Beijing has deployed assets that only have military applications; the new jamming equipment is in line with this trend.
Three of the artificial islands — Fiery Cross Reef, Subi Reef, and Mischief Reef — feature airstrips thought to be capable of accommodating any aircraft in the inventory of both the People's Liberation Army Air Force (PLAAF) or the People's Liberation Army Navy's Air Force (PLANAF).
China regularly rotates J-11B fighters to Woody Island in the Paracel group, several hundred miles northwest of the Spratly group.
Electronic warfare assets could play an important role in a future conflict between China and other claimant states in the South China Sea and even the United States. Though the lone site on Fiery Cross Reef would be insufficient to confer a decisive advantage to China, a constellation of multiple such sites could multiply the benefits these facilities for Beijing.
China claims most of the South China Sea under its capacious nine-dash line claim. Five other countries — Vietnam, Malaysia, the Philippines, Brunei, and Taiwan — also claim portions of the South China Sea.