Taiwan Caught in the Middle of the U.S.-China Trade Tiff
Aimed at China, new U.S. tariffs also hit Taiwan.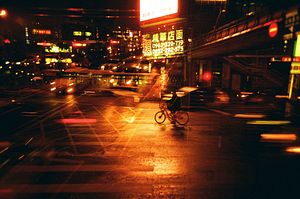 Taiwanese business executives and government officials are deeply worried as the United States and China, its two largest trading partners, tee off in a tit-for-tat trade tiff. Taiwan finds itself caught in the middle.
Taiwan is not unduly troubled by China's industrial policies. Beijing's policies, while illiberal, are predictable. The trade measures of the current U.S. administration, however, are both unpredictable and more likely to increase costs for Taiwanese investors in the short-term.
One can disagree with its remedies, but the Trump administration is not wrong for trying to push back against an ever-aggressive Chinese industrial policy. Certainly, few countries in Asia would protest against America pushing back against the unfair practices that restrict investment and require technology transfer. Nor are other nations keen about Beijing's threats to ban foreign companies from accessing Chinese markets. In fact, many of their companies face the same problems.
But the advent of new trade policies, or the revival of old ones, can produce unexpected casualties. And Taiwan worries it may wind up as one of those casualties.
Still, it's clear the current U.S. administration will use any and all means available to pursue its trade policy in the Indo-Pacific.
The first illustration of this was the exercise of Section 201 of the Trade Act of 1974. The International Trade Commission (ITC) argued that China's subsidization of its solar producers — and the resulting, artificially cheap exports —  hurt the U.S. domestic solar industry. Trump decided to implement the ITC's recommendation of levying 30 percent tariffs on all solar panel imports. While not a major exporter to the U.S., Taiwan still represents about 1 percent of all solar cell imports by U.S. consumers.   
There's currently no exemption for Taiwan in the Section 201 tariffs. Taiwanese producers simply have to wait for the tariffs to wind down or for the U.S. administration to have a change of heart and sunset the tariffs.
Then in March, the president declared that (for dubious national security reasons) the United States will increase the cost of steel and aluminum imports by exercising the rarely used authority created under Section 232 of the Trade Expansion Act of 1962. Again, the U.S. administration recognized that Chinese state-support for its steel industry was artificially reducing the cost of steel.
The president declared a 25 percent tariff on all steel imports from most countries — including those from Japan and Taiwan. Each of these nations export more steel to the U.S. than China. In 2017, Taiwan accounted for 3 percent of U.S. steel imports, while only 2 percent came from China.  
A number of countries that the United States has trade agreements or security agreements with are initially exempt from the tariffs while the Washington negotiates long-term restraints. But neither Taiwan nor Japan — a pivotal security ally — were granted country exemptions. (There is a good chance, however, that importers of Japanese steel will get major product exemptions.)
One can't help but wonder if those handling trade issues at the White House have an interest in maintaining the U.S.-Taiwan economic relationship as much as those who understand the importance of maintaining the U.S.-Taiwan security relationship.
Finally, in early April, the Office of the U.S. Trade Representative published a list of 1,333 Chinese imports which they proposed hitting with a 25 percent tariff. The proposal came, by order of the president under Section 301 of the Trade Act of 1974, following the USTR's investigation of China's unfair industrial practices.
The list of roughly $50 billion in goods is expansive, covering items from parts for machine tools and aircraft to touch screens. Once implemented, many of the costs imposed by these tariffs will eventually work their way back to Taiwanese manufacturers. That's because many goods exported from China are merely assembled there, with much of the manufacturing actually being done in Taiwan. Roughly 2.3 percent of Taiwan's overall production is value-added in China's exports to the U.S.
With Sections 201 and 232, the U.S. administration is mostly "going it alone" against China. But with Section 301, it isn't completely without partners. USTR will take the dispute over China's discrimination against American technology to the World Trade Organization (WTO). In this case, the administration is likely to seek, and get, an international coalition to join in its push back against China.
Taiwan is a member of the WTO. It is also a free-market democracy. As such, it is well-positioned to support the efforts of the United States before the WTO, especially given its own concerns with China's industrial policies. But heavy-handed U.S. tariffs levied on Taiwanese products will make it politically difficult for a Taiwanese administration to get behind Washington. And committing to the United States in such ways, at least rhetorically, risks additionally provoking China.
Trade measures aside, Taiwan President Tsai Ing-wen was very grateful for the recent signing of the Taiwan Travel Act by Trump. The law encourages more high-level visits between the United States and Taiwan, and one issue to be covered could certainly be trade and investment.  
The United States and Taiwan have no broad FTA-type trade pact. All that exists is a trade and investment framework agreement — basically an agreement to meet on a regular basis to discuss and work towards resolving outstanding trade differences. It is often held at the deputy secretary level by the USTR. However, a TIFA meeting is long overdue, as there hasn't been a meeting since October 2016.
So long as any new tariffs persist, Taiwanese exports will be more expensive and less competitive in the United States. Ultimately, Taiwanese exporters could move to other, more competitive markets. One of those markets may just be China. That would create only a greater reliance among Taiwanese companies on China's markets.
Taiwan can object only so much while its largest trading partners come to an agreement. For now, it finds itself caught in the middle of a trade war.
Riley Walters is a policy analyst in The Heritage Foundation's Asian Studies Center.