Trump to Send Trade Delegation to China for Talks
After weeks of finger-pointing over trade disputes, both sides are ready to come back to the negotiating table.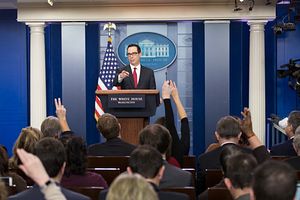 After weeks of tit-for-tat trade spat, China and the United States have each expressed a willingness to return to negotiations.
On April 24, in a joint press conference with French President Emmanuel Macron at the White House, U.S. President Donald Trump confirmed that a trade delegation, led by Treasury Secretary Steven Mnuchin and U.S. Trade Representative (USTR) Robert Lighthizer, is "heading over China, at the request of China" for trade talks.
Taking a softer tone, Trump repeatedly highlighted his "very excellent" relationship with Chinese President Xi Jinping, and praised Xi for being "very strong in helping us to solve" the North Korea problem.
Admitting that he did "play the trade card," Trump expressed his confidence that "the trade will work out."
"So the end result is, we'll see.  Maybe good things will happen and maybe we're all wasting a lot of time. But hopefully it will be good for everybody concerned," he added.
One day earlier, China's foreign ministry spokesperson Lu Kang had welcomed Mnuchin's upcoming visit to Beijing during the regular press conference.
"China has received the information about the U.S. side hoping to come to Beijing for consultations on economic and trade issues and we welcome it," Lu said.
Notably, also in a friendly tone, he expressed China's willingness to solve the dispute through negotiation. He said:
I want to stress that China-U.S. economic ties are mutually beneficial in nature and have long been delivering tangible benefits to the business communities and consumers of the two countries. It is not surprising for China and the U.S., the two large economies, to have some problems in the economic field. These problems can be solved through bilateral consultations or within a commonly recognized multilateral framework. However, they can never be solved through unilateral means.
As The Diplomat has analyzed previously, the recent signals of detente are to be expected. The earlier noisy spat was only a bargaining tactic from both sides.
China's national media has been harshly criticizing the United States' "unilateral means" for weeks. Some Chinese nationalistic newspapers — Global Times for example — have been shouting day and night (mainly to domestic readers) that China cannot concede "even one inch" in the trade war with the United States.
Thus, what's more interesting than the talks themselves is the way that both sides are trying to come back to the negotiating table without losing face.
Lu Kang claimed that it was the U.S. side that hoped to visit Beijing for talks. implying Washington had requested the meeting.
But according to Trump, the visit was initiated "at the request of China."
"They [a Chinese delegation] came here, as you know, last week. And we're having very substantive discussions on trade," Trump said in his speech.
Yet when reporting Trump's latest remarks, Xinhua, China's national news agency, omitted the detail that Trump claimed China had initiated the upcoming trade talks. Meanwhile, Xinhua explained that the Chinese visit "last week" to Washington was not a special event, but happened "on the sidelines of spring meetings of the International Monetary Fund (IMF) and the World Bank,  which concluded here [in Washington] last week."
Whoever really initiated the upcoming talks in Beijing can remain ambiguous, as long as the trade dispute between the two super economies can be solved finally. A trade war will harm not only the two countries but also the rest of the world.