Vietnam-Thailand Naval Ties in the Spotlight with Joint Patrols
The latest iteration of their patrols highlighted a key maritime activity in the bilateral relationship.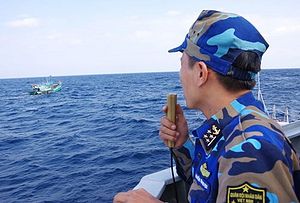 Last week, Vietnam and Thailand completed the latest series of interactions tied to their joint patrols. The activity highlighted a means that both countries have been using to help address some maritime challenges within the broader bilateral relationship.
As I have noted previously, the maritime domain has long factored into wider cooperation between Vietnam and Thailand. This includes not only exploiting areas of opportunity within their relationship in an economic sense but also addressing ongoing challenges that get less of a public hearing in official statements such as maritime delimitation and illegal, unregulated, and unreported (IUU) fishing.
As both countries have continued to deepen their strategic partnership initially inked in 2013, they have explored ways to address these challenges through various means, including increasing communication between maritime agencies and promoting awareness among fishermen.
One of the means through which they look to make progress in this realm is joint patrols between the Royal Thai Navy (RTN) and the Vietnam People's Navy (VPN). The patrols have allowed officials from both sides to enhance understanding of how they work and deepen cooperation through the actual operationalization of procedures in the maritime domain.
Last week, the two navies completed the 37th iteration of their joint patrols. The patrols, which featured Ships 264 and 265 of the VPN and Ships 432 and 525 of Region 2 of the RTN, included a series of maneuvers at sea as well as the visit of Vietnamese ships and personnel to RTN Naval Region 2 that took place from April 20 to 25.
According to the Vietnamese military, the patrols themselves on April 20 and April 21 included six patrol sessions for a distance of about 400 nautical miles, including procedures ranging from search and rescue to the operationalization of the Code for Unplanned Encounters at Sea (CUES).
Following the exercises, the two sides held a series of interactions at RTN Naval Region 2 from April 22 to April 25, including a working session evaluating progress made thus far as well as volleyball games.