Why Japan Is Wrong on Rights in Cambodia
Tokyo's downplaying of rights issues is plain for all to see, and the effectiveness of the approach remains unclear.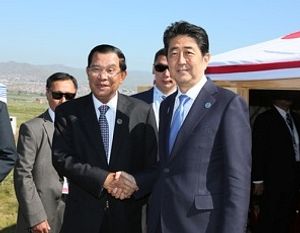 As Western countries level sanctions against Cambodia's Hun Sen and the Cambodian People's Party (CPP) government, Japan stands apart. Not just keeping quiet on attacks on democratic ideals, Japan is throwing money behind the July elections, including funding new ballot boxes, in a transparent move to shore up its Cambodian support, in no small part due to the fact that China's influence is moving deeper and deeper into the Asia-Pacific.
Japan is one of Cambodia's top donors, with $3.4 billion distributed between 1992 and 2015, and maintains a strong diplomatic relationship even as other global powers ramp up criticisms. As recently as last week, Japan issued a $90 million loan to fund electricity and other economic projects. The latest loan comes after Japan confirmed it would continue to support and partially fund the July elections, which human rights watchers have deemed farcical amid a crackdown on critics and opposition figures.
In a statement to Reuters, Kentaro Sonoura, an adviser to Japanese Prime Minister Shinzo Abe, called for Hun Sen and the CPP to better engage with opposition parties. Yet many observers find it difficult to take those calls seriously when, unlike other powers, Japan is as yet unwilling to issue sanctions or other measures against the Hun Sen government.
Cambodia, for its part, has been happy to extol the value of closer ties with Japan. Khmer Times is glowing in its reporting of relations, and particularly the personal relationship between Abe and Hun Sen. "In a very rare, special occasion, Mr. Hun Sen was deeply touched by the birthday celebration organized by Mr. Abe. It was one of the most memorable events for Mr. Hun Sen," Khmer Times reported last August, underlining the government's ambition to keep relations smooth.
The influence of Japan has prompted former Cambodia National Rescue Party (CNRP) leader Sam Rainsy to visit Tokyo this week, where he hopes to make the case for Japanese support of free elections. "We will ask Japan, and I think Japan is proceeding in the right way, to ensure that the next election set for 29 July will be free and fair with the participation of the only opposition party that is really credible and viable, which is the CNRP," he told NHK Television.
But as other observers have been noting, Japan has a legacy of deeming Cambodia's elections of being "fair and free" when they are plainly neither. Civil society in Japan appears to be growing uncomfortable with the state of relations – surely set to be exacerbated by the Rainsy visit – and some newspaper editorials are openly questioning what the benefit of these elections will be in the long term.
The Abe government appears resistant to criticisms, both at home and abroad, with ambitions to become the major infrastructure and funding partner for Southeast Asian countries in the face of China's Belt and Road Initiative. Those geopolitical ambitions are understandable and far from unique to Tokyo. The real issue is whether those ambitions demand a narrow, interest-based approach to engaging Cambodia at all costs, even when all realities point to the need for some calibration.
Unless more balance is seen in both Japan's rhetoric as well as its policies towards Phnom Penh, it will continue to face scrutiny on its approach. And apart from what others might say, there is also the question about the extent to which engaging Cambodia's ruling party in such an unbalanced way actually promotes Tokyo's full range of interests there, with respect to not only the Cambodian government but also its people.