Why Russia Exaggerates Islamic State's Presence in Afghanistan
The notion that the United States is facilitating the rise of ISIS in Afghanistan resonates powerfully within Russia.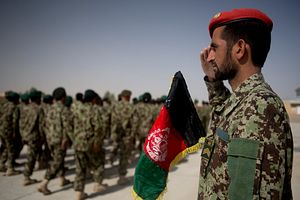 On February 20, 2018, Russian Foreign Minister Sergey Lavrov met with his Pakistani counterpart Khawaja Muhammad Asif to discuss the threat of the Islamic State (ISIS) in Afghanistan. In a press conference after their meeting, Lavrov described the presence of ISIS in northern and eastern Afghanistan as "rather serious," and alleged that there were thousands of ISIS gunmen operating across the war-torn country.
Lavrov's statement on the ISIS threat in Afghanistan was widely criticized in the United States. In an interview with the BBC World Service, General John Nicholson, the commander of NATO's Resolute Support Mission in Afghanistan, argued that Russia has exaggerated the ISIS threat in Afghanistan to justify its provisions of military assistance to the Taliban. Navy Captain Tom Gresback, the public affairs director at Resolute Support headquarters, also concurred with Nicholson's assessment by claiming that there is little evidence that ISIS is expanding its military presence in Afghanistan.
Russia's frequent exaggerations of the Islamic State's presence in Afghanistan are closely intertwined with Russian President Vladimir Putin's broader internal consolidation and foreign policy objectives. Russian policymakers have emphasized the ISIS threat to unite anti-Western nationalists around Russia's expanded diplomatic involvement in Afghanistan, strengthen Moscow's alliances with Central Asian countries, and establish common ground with Pakistan on the resolution of Afghanistan's political crisis.
Since U.S. President Donald Trump authorized a MOAB ("mother of all bombs") strike in April 2017 that killed 92 ISIS militants in Afghanistan, Russian officials have argued that U.S. policymakers have become complacent about the Islamic State's ability to threaten regional stability. To highlight this perceived policy failure, Russia's special envoy to Afghanistan Zamir Kabulov released a statement in December 2017 that praised Russia for being one the first countries to label ISIS as a major security challenge, and claimed that over 10,000 ISIS militants were present in Afghanistan, with many arriving from Syria and Iraq.
Even though Kabulov downgraded his estimate to 7,000 fighters on February 1, the narrative that Washington has not adequately responded to the Islamic State's rise remains at the forefront of Russian official rhetoric on Afghanistan. In late February, Lavrov reiterated Kabulov's concerns about ISIS fighters migrating from the Middle East to Afghanistan, and decried NATO's failure to devote adequate resources to defeating this threat.
Even though Lavrov has struggled to sell the case for a rising ISIS threat to U.S. policymakers, the notion that the United States is facilitating the rise of ISIS in Afghanistan resonates powerfully within Russia. Quoting statements from Iranian military officials and Afghan policymakers, Russian state media outlet Sputnik has prominently featured allegations that the United States is supporting ISIS in Afghanistan to weaken the Taliban's influence in the country. As these conspiracy theories are gaining broader acceptance in Russia, highlighting the ISIS threat ensures that anti-Western policymakers accept the need for an expanded Russian diplomatic role in Afghanistan.
In addition to bolstering internal support for the revival of Russia's diplomatic presence in Afghanistan, Russia has focused on the ISIS threat in Afghanistan to establish more mutually beneficial alliances with its Central Asian partners. This strategy has reaped dividends, as Central Asian countries view ISIS as a legitimate security threat and a highly visible nemesis to rally public support against. Although Kyrgyzstan was noncommittal about assisting Russia's military intervention in Syria, it has cooperated closely with Moscow against the ISIS threat from Afghanistan. The Kyrgyz military has also been active participant in Russian-led military drills aimed at increasing the Collective Security Treaty Organization (CSTO)'s preparedness against the threat of ISIS in Afghanistan.
Even though Russian officials have historically chastised Tajikistan for its ineffective border security policies, Moscow's emphasis on the ISIS threat in Afghanistan has created a sense of urgency in Dushanbe that has enhanced Russia-Tajikistan security cooperation. In recent months, Tajikistan has allegedly assisted Moscow's supplies of light weaponry to the Taliban's anti-ISIS operations, and facilitated Russia's pre-emptive defensive measures against ISIS by acting as a conduit for the movement of Russian armored vehicles to Afghanistan's frontiers.
Russia views these displays of support against ISIS as encouraging, because they allow Moscow to frame itself as a benevolent protector of Central Asian countries against terrorism rather than as a hegemonic actor. As many Central Asian governments continue to view the securitization of Islamic extremism as a useful tool for regime consolidation, Moscow is likely to be able to use its anti-ISIS efforts in Afghanistan to bolster the effectiveness of its regional alliances.
The Russian government's successful engagement of its Central Asian partners against the ISIS threat in Afghanistan has encouraged Kremlin officials to focus on ISIS during their diplomatic negotiations with Pakistan. While joint pledges from Islamabad and Moscow to combat ISIS have been largely rhetorical in nature, Russian policymakers have been cautiously optimistic that increased dialogue on combatting ISIS will result in more extensive bilateral cooperation with Pakistan.
On March 21, Russia held a Joint Working Group (JWG) on counterterrorism with Pakistan at the Pakistani Ministry of Foreign Affairs in Islamabad. After this JWG, officials from both countries described the threat of ISIS in Afghanistan as a "grave concern," and argued that the diffusion of foreign fighters from Iraq and Syria to South Asia was a major threat to regional stability.
Despite the lack of evidence for a rising ISIS presence in Afghanistan, Pakistani officials have shared Russia's focus on ISIS in Afghanistan, because Islamic State's rise is a symbol of the ineffectiveness of U.S. counterterrorism strategies in South Asia. As Pakistan continues to face international scrutiny for its links to the Taliban and Haqqani Network, Russia's strategy of blaming Washington for the poor security situation in Afghanistan is appealing to Pakistani policymakers, and could cause collaboration against ISIS to act as a stepping stone for a more comprehensive Russia-Pakistan security partnership.
Even though ISIS appears to be a declining force in Afghanistan, Russian officials have exaggerated its presence to gain domestic support for Moscow's diplomatic initiatives in Afghanistan, upgrade its alliances with Central Asian countries, and strengthen Russia's burgeoning partnership with Pakistan. The success of this strategy ensures that Russia will continue to frame its involvement in Afghanistan around combatting the receding threat of ISIS for the foreseeable future.
Samuel Ramani is a DPhil candidate in International Relations at St. Antony's College, University of Oxford. He is also a contributor to the Washington Post and the National Interest magazine. He can be followed on Twitter at samramani2.