Pay Attention to Russia's South Asia Strategy
Russia is isolating and undermining the United States in the region.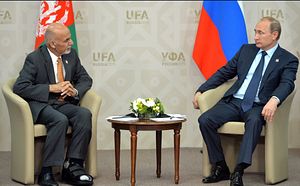 Foreign policy experts have been devoting a significant amount of time and energy to Russia's role in undermining the United States in Europe and the Middle East, as well as China's growing influence in the Indo-Pacific. This has drawn attention away from South and Central Asia, where Russia is successfully pursuing a strategy that seeks to isolate Washington in Afghanistan and erode its influence in the broader region.
Four developments have provided Russia with an opportunity to undercut U.S. interests: the growing presence of the Islamic State (ISIS) in Afghanistan, the U.S. decision to withdraw from the Iran nuclear deal, Washington's evolving relationship with India and Pakistan, and Chinese investments in Central Asia under the Belt and Road Initiative (BRI).
The inability of Afghan and U.S. security forces to exercise control over Afghanistan's territory has allowed ISIS to establish a significant presence in the region. A recent suicide bombing that targeted a meeting of clerics in Kabul was only the latest in a string of ISIS attacks in Afghanistan. Growing ISIS presence in Afghanistan concerns Russia, which fears that the Islamic State in Afghanistan could draw in Chechen and Uzbek militants, fomenting instability in Russia's periphery.
Russia's Foreign Minister Sergey Lavrov, speaking to the media following the April 24 meeting of the Shanghai Cooperation Organization (SCO) Council of Foreign Ministers, voiced concerns about "the strengthening of extremists, primarily from the so-called Islamic State, who enter Afghanistan via Iraq and Syria and are becoming entrenched in Afghanistan's northern provinces, which border on our allies in the Collective Security Treaty Organization (CSTO)."
This growing threat has led to a shift in strategic calculus in Moscow, which is now backing a peace process in Afghanistan that seeks to reconcile the Afghan government and the Taliban. In his comments at the SCO, Sergey Lavrov reiterated Russia's support for the peace process, saying that Russia has "supported the launch of direct talks between the Afghan government and the Taliban movement while preventing ISIS from recruiting Taliban members."
While supporting a peace process to undercut ISIS recruitment of Taliban members, Russia has also started to provide kinetic support to the Taliban. In a recent interview to the BBC, Gen. John Nicholson, head of U.S. forces in Afghanistan, said that Russian "grossly exaggerates the number of ISIS fighters" in Afghanistan to legitimize "some degree of support to the Taliban." Afghan officials have also alleged that Russia is providing night vision goggles, small arms, as well as medium and heavy machine guns to Taliban fighters.
The Trump administration's decision to withdraw from the Iran nuclear agreement has provided another opportunity for Russia to undercut the United States in Afghanistan. Both U.S. and Afghan officials have in the past alleged that Iran has been providing funding, weapons, and training to Taliban militants fighting against the Afghan government in southwestern Afghanistan. Following the Trump administration's unilateral withdrawal from the Iran nuclear deal, Tehran has been further incentivized to increase support for Taliban militants and bleed U.S. forces in Afghanistan by a thousand cuts. Iran has previously pursued a similar strategy in Iraq and has successfully worked with Russia to prevent the overthrow of the Assad regime in Syria.
Washington's changing relations in the region have also created an opportunity for Russia. India's embrace of the United States and worsening U.S.-Pakistan relations have created a conducive environment for closer Russia-Pakistan relations. In 2014, Pakistan and Russia signed a defense cooperation agreement that led Russia to lift an arms embargo on Pakistan. Despite opposition by India, Russia has finalized a sale of Mi-35 combat helicopters to Pakistan, held joint military exercises with Pakistan's military, and sold Russian engines to Pakistan Air Force for use in its JF-17 fighter jets. Pakistan, facing the risk of diplomatic isolation from the United States, has also sought Russian economic investment. Russia and Pakistan signed a $2 billion deal in 2015 to develop a 1,100-kilometer gas pipeline from Karachi to Lahore — the largest economic deal between the two countries since the Soviet Union built the Pakistan Steel Mills in the 1970s.
While Russia had initial misgivings about China's growing influence in its periphery, it has started to cautiously work with China under the Belt and Road Initiative to foster greater connectivity between the two countries through Central Asian countries like Kazakhstan. Lavrov reiterated this view at the SCO in April, where he said that special attention is being paid to align "Eurasian economic integration with China's Belt and Road Initiative." Greater integration is expected to benefit Russia, as cargo from China to Europe via rail linkages will go through Russia, generating transit fee revenues for Moscow. From a strategic perspective, Russia's alignment with China in Central Asia also makes it very difficult for the United States to have influence in the region, as Central Asian republics become even more reliant on Chinese and Russian economic investments.
A strategic calculus rooted in realism has driven Russian decision-making in the region and has led it to work together with historic rivals to isolate the United States. By supporting the Taliban and cooperating with Iran and Pakistan, Russia can virtually surround U.S. forces stationed in Afghanistan. Russia has also recognized that while BRI investments increase Chinese influence in Central Asia, cooperating with China delivers economic and strategic gains for both countries. Executed at a time when U.S. influence around the world is declining, Russia's actions have, for the time being, undermined U.S. interests in South and Central Asia. Given the Trump administration's ability to antagonize U.S. allies and its inability to make thoughtful foreign policy choices, it is unlikely that the Trump administration will succeed in opposing growing Russian influence in South and Central Asia.
Uzair Younus is a Director at Albright Stonebridge Group. Views expressed are his own.