Ahead of Trade Talks, Trump Slaps More Tariffs on China
"Tariffs or threat of tariffs are a very useful and powerful negotiation tactic," as the AmCham China chair put it.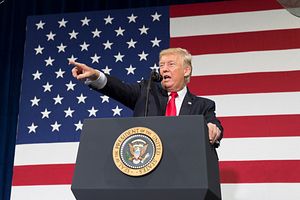 The United States and China have been in an on-and-off fight over trade and tariffs for months. The market had just calmed down after U.S. Treasury Secretary Steven Mnuchin said that the United States was "putting the trade war on hold" a week ago — then U.S. President Donald Trump decided to pick a fight with China yet again.
On May 29, the White House announced a series of new actions against China regarding "technology technology transfer, intellectual property, and innovation," as a follow-up step to protect U.S. domestic technology and intellectual property.
Among those actions was the threat of new tariffs. According to the announcement:
[T]he United States will impose a 25 percent tariff on $50 billion of goods imported from China containing industrially significant technology, including those related to the "Made in China 2025" program. The final list of covered imports will be announced by June 15, 2018, and tariffs will be imposed on those imports shortly thereafter.
This new development came just days ahead of U.S. Commerce Secretary Wilbur Ross' scheduled trip to China. As Xinhua confirmed last week, Ross, along with his team, is to visit Beijing from June 2 to 4 for another round of talks over trade disputes. Ross and Vice Premier Liu He, China's chief representative on trade talk with Washington, spoke over the phone on May 25, Xinhua added, without elaborating.
Thus, Trump's latest move looks like his usual tactic of raising the stakes before a showdown with Beijing.
During a press conference in Beijing on May 30, William Zarit, chairman of the United States Chamber of Commerce in China (AmCham China) adopted this theory. He said, according to multiple news outlets,"Tariffs or threat of tariffs are a very useful and powerful negotiation tactic, and it has brought China to the negotiating table more seriously than ever before."
"The thinking became that if the U.S. doesn't have any leverage and there is no pressure on our Chinese friends, then we will not have serious negotiations," Zarit added.
In fact, for observers, the pattern is already familiar.
Washington rolls out threatening measures first; then Beijing condemns Washington, perhaps issuing equally frightening countermeasures at the same time. Both sides might shout as loudly as possible as if a trade war is only one step away during the window period — but finally a deal will be made at the negotiation table as if no quarrel has ever happened, at least until the next round starts.
In response to Trump's threat of tariffs, Beijing criticized Washington on May 30, but so far with a relatively controlled tone. Hua Chunying, China's foreign ministry spokesperson, said:
I believe that we all share the same feeling that when it comes to international relations, each and every flip-flop will only lead to further depletion and squandering of a country's credibility and reputation. The US' statement explicitly runs against the consensus it reached with the Chinese side in Washington D.C. not long ago. We urge the US to honor its words and meet China halfway in the spirit of our joint statement.
On the same day, despite Hua's criticism of the United States, China's State Council declared that China will further cut import tariffs for daily consumer goods starting July 1.
The average tariff rate for clothing, shoes and hats, kitchenware, and sports and fitness supplies will be reduced from 15.9 percent to 7.1 percent, and that for home appliances such as washing machines and refrigerators from 20.5 percent to 8 percent, Xinhua reported.
Although Xinhua didn't elaborate on the background of this new policy or mention the United States in this statement, it's obvious that the policy is meant as a response to Trump's latest threat.