As China's Type 001A Carrier Enters Sea Trials, What's Next for the PLAN's Carrier Force?
China's first indigenously built and designed carrier is an important milestone for the PLAN.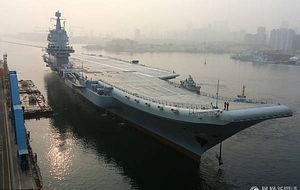 As expected following weeks of anticipatory rumors, the Chinese People's Liberation Army-Navy's (PLAN) second aircraft carrier — the first one built from scratch in China's Dalian shipyard and designed domestically — entered its first sea trials. The vessel, whose flight deck remains unfinished, set out for trials in the northeastern Bohai Sea. The first round of trials are expected to last through the week.
The launch of the Type 001A carrier marks a symbolically important moment for the PLAN, which continues to adapt as a newly expeditionary force after decades of acclimating to a coastal defense role. Eventually, Chinese carrier task groups are expected to help China sustain a naval presence beyond the first island chain, into the Western Pacific, and in the Indian Ocean.
China's first overseas base is in Djibouti, astride the Bab-el-Mandeb Strait and the Gulf of Aden. China has also invested in several strategically located port facilities in the Indian Ocean, including Gwadar and Hambantota in Sri Lanka, that regional analysts have long feared could be converted for use in supporting expeditionary naval operations.
While China's carriers are no doubt potent symbols of its rapid ascent as global military power, the PLAN's carrier operations have serious limitations. The first of these is experience. The PLAN's sailors and naval aviators are still new to the business of long-term carrier operations. The Liaoning, China's first carrier, was commissioned in 2012 and only four years later, in December 2016, began long-range deployments, enter the Western Pacific and the South China Sea. Indeed, the Liaoning itself may have primarily been intended to serve as a platform for PLAN sailors and carrier aviators to gain experience for eventual use on newer carriers.
Like the 60,000-ton Liaoning, the 65,000-ton Type 001A (likely to be named Shandong) will be a far less effective tool for sustained power projection than the 100,000-ton U.S. Navy Nimitz– and Ford-class supercarriers. China's first two carriers are ultimately hamstrung by their use of conventional propulsion and use of short take-off but arrested recovery (STOBAR) launch systems.
What makes the Type 001A interesting is that it will, once commissioned, likely play a very different role in the PLAN's fleet than the Liaoning. This new carrier may see operational deployments into the Western Pacific and even eventually the Indian Ocean more regularly than the Liaoning.
With regard to China's overall carrier strategy, its future carriers will be the ones to watch. A Type 002 carrier is under construction, with a more advanced launch system that'll enable faster sortie rates for aircraft as well reduce the stress on fighter airframes. China's third and subsequent carriers, meanwhile, may use nuclear propulsion, enabling extended deployments.