India Poised to Gain Access to Indonesia's Sabang Island
The Indian Navy may soon have access to a strategically located Indonesian island.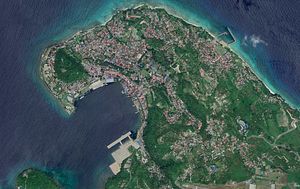 India has steadily been expanding its involvement in a range of strategically located port facilities around the Indian Ocean region, amid growing concern in New Delhi about the Chinese People's Liberation Army Navy's more expeditionary role in the region.
Now, it appears that India will gain access to facilities at the strategically located Indonesian island of Sabang, which sits approximately 175 kilometers southeast of the southernmost island in India's own Andaman and Nicobar Island chain, just north of Sumatra. The island is part of Indonesia's Aceh province.
Luhut Pandjaitan, Indonesia's coordinating minister for maritime affairs, speaking in New Delhi, confirmed a likely agreement over Sabang between the two countries in comments last week. Luhut's remarks come ahead of an anticipated visit by Indian Prime Minister Narendra Modi to Jakarta.
"It's a verbal understanding at this stage. The Indonesian side will hold a meeting next week to seek ways to turn it into a reality," said one official who spoke to the Hindustan Times. Luhut remarked on the deep water port at Sabang, highlighting its suitability for both civilian and military vessels, "including submarines."
Sabang flanks the northern end of the Malacca Strait, which hosts crowded and critical sea lanes for the passage of goods. Per 2016 data, 16 million barrels of crude oil and other petroleum products transited the strait every day. The northern end of the Strait, where Sabang sits, is the widest, with the southern part of strait narrowing to just 1.5 nautical miles at points.
India's interest in Sabang is not new. New Delhi and Jakarta were reportedly in discussions to develop the port as early as during Modi's first year in office.
With Modi's declaration of an "Act East" policy for India — an evolutionary progression from India's older "Look East" policy — and New Delhi's support for a "free and open Indo-Pacific" region alongside other Asian democratic maritime powers, including Japan, Australia, and the United States, a decision to revisit Sabang makes sense.
The port would grant the Indian Navy a well-positioned logistics and resupply node to sustain operations in the eastern Indian Ocean and the Malacca Strait. In particular, the port at Sabang could boost the Indian Navy's ability to respond to humanitarian emergencies, provide disaster relief, and conduct anti-piracy patrols.
In 2016, Modi, while hosting Indonesian President Joko "Jokowi" Widodo in India for a state visit, noted that India and Indonesia, "as two important maritime nations that are also neighbors … agreed to cooperate to ensure the safety and security of the sea lanes, in disaster response and environmental protection."
While Sabang's strategic location gives it value, Indonesia has sought overseas investment to help improve the island's infrastructure and capabilities. In 2016, Indonesia had invited Japan to consider investment in Sabang's facilities.
In 2017, the two countries came to an agreement that will see Japanese capital help Indonesia complete civilian-use fishing ports on several strategically important islands, including Sabang and Natuna.
In a statement announcing the agreement, Tokyo and Jakarta noted that they both "share common interest in maintaining and promoting free, open and stable seas for peace, stability and prosperity of the region."