Indonesia Spotlights 'Mentality' Challenge in Its Military Modernization
Officials continue to highlight the importance of changing the mindset of Indonesians to defend the country.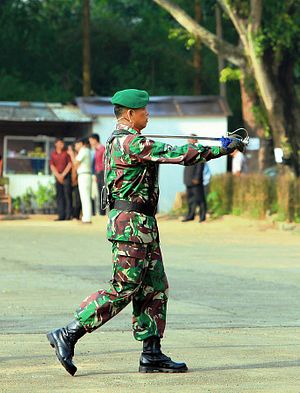 Last week, during an interview with a state-run news agency, Indonesian Defense Minister Ryamizard Ryacudu once again made reference to the importance of changing the mindset of the Indonesian people as part of the country's wider approach to defending itself against external threats. Though his comments were far from new or surprising to close observers, they once again put the spotlight on the Indonesian defense establishment's fixation with addressing what they see as a mentality challenge within the country's defense policy, despite the challenges that this has raised thus far.
Over the past few years, as Indonesian defense officials have been articulating the challenges in Indonesian defense policy and how to overcome them, there has been a focus not just on new equipment or defense budgets, but also changes needed in the mindset of the Indonesian people in general and the country's youth in particular.
Though this idea is far from new and there have been various articulations of this over the years, the promotion of the concept of "Bela Negara" (defending the state) has been the one that has gotten the most attention recently under Indonesian President Joko "Jokowi" Widodo. The focus has been on inculcating a sense of national pride and a better understanding of the country's founding ideals, as embodied by Pancasila, in the Indonesian people to safeguard it from a range of threats including communism and Islamic extremism.
As part of this, the defense ministry under Ryacudu has been trying to work with other ministries as well as other stakeholders including local community groups and students to promote the vision. So far, this has included a range of initiatives, from fostering education programs to establishing training centers for voluntary civilian defense forces to delivering addresses on the subject.
These efforts have raised concerns as they have gotten underway. These concerns run the gamut – from general alarm about further militarization of the country and a return to the Suharto period, which witnessed the height of the military's involvement in the Indonesian state, to questions about whether such state defense education programs are actually an efficient use of state resources and whether the defense ministry's role relative to other stakeholders is actually being managed correctly.
Last week, Ryacudu again mentioned this mentality challenge as part of the effort to bolster Indonesia's defense against external threats. In an interview with state-run news agency Antara at the defense ministry in Jakarta covering a whole range of issues – from new equipment purchases to strengthening Indonesia's domestic defense industry – Ryacudu said that there needed to be greater awareness cultivated in the country, including among the youth, to instill love for the homeland and to protect Indonesia from external threats such as terrorism, as evidenced from the recent attacks in Surabaya.
Specifically, according to local media reports, Ryacudu reiterated an argument he has previously made that the committing of terrorist attacks was rooted in the mindset of individuals. If that mindset could be changed, including through the cultivation of greater pride for the homeland and belief in Pancasila, he argued, they would be unlikely to commit terrorist attacks. Though Ryacudu admitted this would be challenging, he said this could have a better chance of working if it were introduced at an early age to ensure that a sense of nationalism is firmly entrenched in young Indonesians.
To be sure, Ryacudu's comments constitute largely a continuation of what we have heard in recent years, and they certainly do not represent the final word on an issue that still raises controversy for various reasons. Nonetheless, it was yet an indicator that as Indonesia's defense establishment thinks about how it is going to confront threats, the mentality or mindset of its population continues to be an element that factors into their thinking.