Is a New Era Dawning for Malaysian Civil Society?
"The next year will be critical to build on the public momentum for change."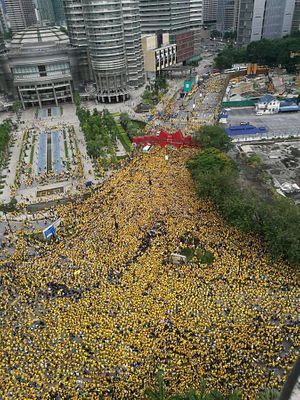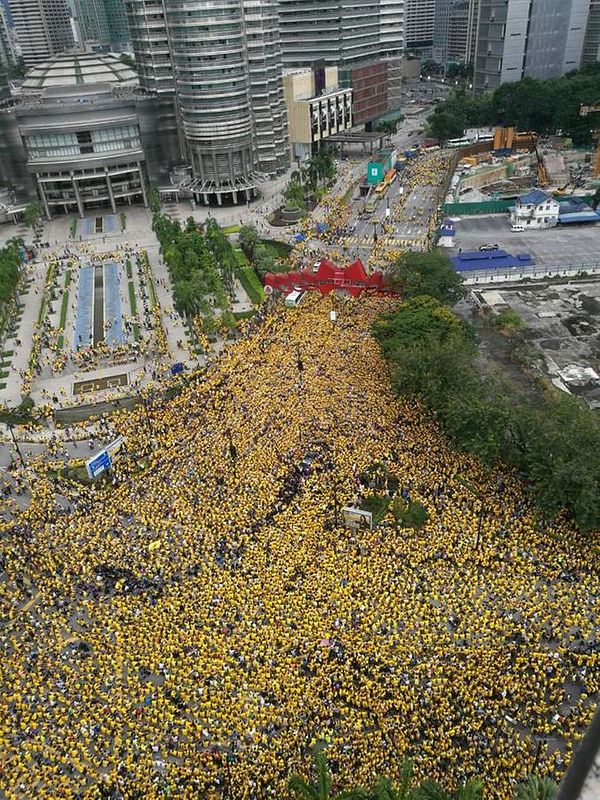 It was the result no one expected. In a stunning upset, the opposition coalition Pakatan Harapan ("Alliance of Hope") emerged victorious from Malaysia's general elections, ending the Barisan Nasional's (BN) 61-year grip on power.
Sure, there had been signs that a surprise might be on the cards. Across Malaysia, frustrations were growing with a sharp increase in the cost of living. The BN was widely seen as corrupt, and the billion-dollar 1MDB corruption scandal had badly tainted the reputation of former Prime Minister Najib Razak. In the last election in 2013, the BN barely managed to cling to power despite losing the popular vote. But ultimately few Malaysians, where the BN had ruled since the end of the British colonial era, believed that they would actually see a change in government.
But events have moved at a breathtaking pace since the polls closed on May 9, 2018. Voters overwhelmingly rejected the governing coalition of Najib Razak and returned former Prime Minister Mahathir Mohamad to lead a highly disparate coalition of opposition parties. In order to win, the 92-year-old Mahathir forged an unlikely alliance with his former deputy Anwar Ibrahim, whom he had fired and jailed on trumped-up sodomy charges. Anwar himself has been released, but Mahathir has indicated that he will serve as prime minister for two years before handing the reins over to his former protégé. Najib, meanwhile, has been slapped with a travel ban, and the new government has already announced a far-reaching investigation into his role in in the 1MDB scandal.
The election result is remarkable on many fronts. It was a united, pluralistic vote that rejected Najib's ethnic fear-mongering, patronage, and grand corruption. And most importantly, it demonstrated that a ballot box can deliver momentous change peacefully, even in a heavily skewed playing field marred by a crackdown on critics, massive handouts, and gerrymandering.
What comes next is uncertain, as what ultimately tipped the scale was the Mahathir factor. Mahathir still carries massive voter confidence among the majority ethnic Malay constituencies in the rural heartlands. At the same time, his inability to transfer power is what ultimately held Malaysia back in the 1990s, and Malaysia's real democratic transition cannot arrive until after Mahathir steps aside. At age 92, Mahathir may well use this as a moment to fashion a new image and leave a positive legacy.
The next year will be critical to build on the public momentum for change. Embattled Malaysian civil society groups have made important contributions to the watershed results of this election. The consistent legal challenges on behalf of individuals charged under restrictive laws, for example, were crucial in ensuring that a number of opposition candidates avoided disqualification and were able to contest. Civil society has also sustained public awareness on issues such as accountability for corruption, which proved crucial in building the momentum for change among the general public. Last but not least, the civil society movement has trained generations of activists, many of whom have now gone on to play important roles within Pakatan Harapan.
But for Malaysian civil society to be able to play a truly constructive role in the future without restrictions, the new government must now commit to genuine change. One natural place to start would be the legal books. The past few years have been marked by intensified repression of free speech in Malaysia. Opposition politicians, lawyers, rights activists, and journalists have all faced increasing pressure, as has civil society as a whole. Many real or perceived opponents have been harassed, threatened, or even jailed by a government increasingly desperate to eliminate any dissent.
In the lead up to the elections, for example, parliament passed a new "anti-fake news" law that observers worry could be used to stifle public debate online. The definition of "fake news" is so broad that it could include virtually any criticism of those in power, and those found guilty could face a fine or up to six years in prison, according to rights groups. Although print and broadcast media have long been censored in Malaysia, online news sites have enjoyed relative freedom – observers fear this could now change. There are already signs that both news outlets and average social media users are starting to self-censor.
The law has already claimed its first casualty, after a Danish citizen of Yemeni descent based in Malaysia was sentenced to a 10,000 ringgit ($2,500) fine on April 30. The court found him guilty of spreading "fake news" with "ill intent" after he accused the police of responding slowly to the shooting of a Palestinian lecturer earlier in April.
This law adds to a string of other acts that have been used to silence free speech in Malaysia. These include the Communication and Multimedia Act, the Printing Press and Publications Act, and, most infamously, the Sedition Act. The latter, a colonial era relic, has been used to harass, fine, and jail hundreds of individuals in recent years – including lawyers, journalists, opposition politicians, and rights activists.
Encouragingly, the Pakatan Harapan manifesto puts legal and institutional reform top on the list. There are already hopeful prospects that some of the longstanding campaigns led by civil society groups may become reality, especially around the repeal of restrictive legislation such as the Sedition Act and security laws.
In terms of institutional reform, the new government has already identified particular state bodies where change is needed. These include the Anti-Corruption Commission, Attorney-General's Chambers, and Election Commission, among others. A five-member committee — comprised of retired judges, civil society representatives, and an academic — has already been formed to provide recommendations on institutional reforms to the Council of Elders. In an incredible turnaround, one of the members of this committee is Ambiga Sreenevasan, former chair of Bersih, a nongovernmental coalition for clean and fair elections, which had previously been demonized by the government.
The Malaysian results have raised hopes across the country that a new era is finally possible. This is an opportunity that the new government has to seize. The initial steps taken by the Pakatan Harapan are very encouraging; the authorities must now build on these to achieve lasting change.
Binaifer Nowrojee is Regional Director for Asia Pacific at the Open Society Foundations