Israel-Asia Relations: Balancing Economic And National Security
Insights from Rebecca Zeffert.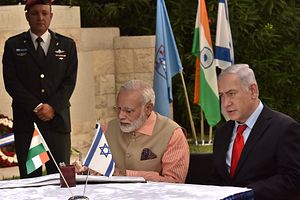 Trans–Pacific View author Mercy Kuo regularly engages subject–matter experts, policy practitioners, and strategic thinkers across the globe for their diverse insights into U.S. Asia policy.  This conversation with Rebecca Zeffert – Founder and Executive Director of the Israel–Asia Center in Jerusalem – is 140th in "The Trans–Pacific View Insight Series."
Identify three key areas of cooperation in Israel–Asia relations.
It is hard to speak of cooperation between Israel and Asia as a whole. Asia is a vast continent and each country in the region has unique bilateral relations with Israel, while some don't have diplomatic relations with Israel at all. What is important to note about these relationships in recent years, is that we see a clear acknowledgment from both the public and private sectors in Israel of the strategic importance that Asia holds, both politically and economically.
This is evident through the numerous visits over recent years by Israel's Prime Minister Benjamin Netanyahu and President Reuven Rivlin to China, India, Japan, Singapore, and Vietnam, and recent visits to Israel by [Indian] Prime Minister Modi, [Japanese] PM Shinzo Abe, [Chinese] Vice Premier Liu Yandong, [Singaporean] PM Lee Hsien Loong and senior members of Vietnam's politburo. When we look at Asia's superpowers, the Israeli government has been very clear about its intention to advance these relations, going as far as to pass a specific resolution obligating different ministries to allocate funds to enhance relations with China, India, and Japan specifically.
We are also seeing increased efforts on the Israeli side to engage with Asia beyond the traditional areas of agritech, defense, and security. These include collaboration across a range of innovation and technology sectors, in education, and even in disaster relief, resilience-building, and sustainable development.
Meanwhile, automotive, telecoms and electronics companies – from China, India, Japan, Korea, and Singapore – are establishing R&D centers in Israel to tap into the country's tech talent and innovation ecosystem.
Explain key commercial trends in Israel's relations with China.
As the world's most populous nation and second largest economy, China's commercial interests in Israel – the "Start-Up Nation" – are largely focused on Israel as a source of technology and innovation.
Israel's commercial interest in China is clear: Israel's market is too small for its flourishing tech and innovation ecosystem and Israeli companies tend to think global from the outset. As the world looks east for market opportunities and financial resources, so too does Israel.
The traditional areas of collaboration between the two countries (even before diplomatic relations were established) were agriculture and water technologies, especially measures to combat desertification in the more arid parts of China. As China increasingly seeks solutions to challenges of food security, clean water, an aging population, air quality, and mounting strains on its growing mega-cities, these traditional areas are taking new shape and scale to include not only agritech and water-tech but also biotech, medtech, cleantech, artificial intelligence, smart city technology, waste management, and food security and safety. A clear demonstration of this has been seen in investments in and acquisitions of Israeli homegrown brands by Chinese companies – such as Tnuva dairy products. Other commercial trends beyond tech include China's interest in Israeli insurance and infrastructure development (including sea ports, tunnels, and railways).
Explain the focal points of Israel's relations with Japan and India?
After years of what can only be described as stagnant relations resulting from the from the Arab Boycott and Japan's dependence on Arab oil, the Japan-Israel relationship has finally started to thaw – and even flourish – with two visits by PM Shinzo Abe to Israel in the past three years. The relationship, which still has a long way to go in fully realizing its potential, is based mainly on trade, technology, and innovation – particularly cybersecurity technology in the run-up to the 2020 Olympics. But there is also potential for growing collaboration in fields such as intelligence and defense. However, two key obstacles from Israel's perspective, that are preventing advancements in trade and tourism in particular, are the lack of direct flights between the two countries and the travel warning issued by Japan on visiting Israel.
Israel's relations with India, meanwhile, have traditionally focused on agritech and defense. However, PM Modi's "100 Smart Cities," "Make in India," and "Digital India" campaigns – not to mention the country's growing challenge of recruiting and training on a mass level the tens of millions of millennials entering the job market every year – could hail a new era of Israel-India relations for companies in the fields of HR tech, artificial intelligence, cleantech, waste management, smart city technology, mobility, and smart manufacturing.
The Israeli government is also keen to tap into the market of the 20 million outbound Indian tourists a year. Air India's new direct flight from New Delhi to Tel Aviv, Israel's efforts to ease visa requirements, and plans to attract Bollywood productions to Israel will all play their role in turning popcorn into plane tickets.
Assess Israel's approach toward the Belt and Road Initiative (BRI).
While not officially part of the Belt and Road Initiative (BRI), it is hard to ignore Israel's strategic positioning in the region, juxtapositioned between Asia, Africa, and Europe. As such, and as a founding member of the Asian Infrastructure Investment Bank (AIIB), Israel views this initiative – and the potential of becoming a key east-west trade corridor and logistics hub – as a significant economic and diplomatic opportunity to be leveraged – and not just with China. The initiative presents a channel for Israel to develop ties with the 60 countries along the Belt and Road, including countries in the Middle East with which it does not yet have diplomatic ties.
Israeli companies in the fields of cleantech and smart city technology also have much to offer in urban planning and green technology applications as infrastructure is upgraded across the Belt and Road countries.
China's increased involvement in Israeli maritime, rail, and road infrastructure has, however, faced mixed reactions. When it comes to acquisition and development of critical infrastructure by Chinese state-owned companies – and their bids to operate rail and tunnel communication systems – some parties in Israel have been urging caution in recent months, and the need for Israel to balance its economic interests with regional and national security concerns.
However, if Israel can successfully balance these considerations, the Belt and Road will open new doors and tremendous potential for Israel as a key logistics, trade, innovation, and services hub connecting Asia's economies with Africa and Europe.
What are the implications of Israel–Asia relations vis-à-vis the United States?  
It is becoming increasingly clear that we are living in a multipolar world order. As such, Israel's relations with the United States, China, India, and other nations are not a zero–sum game.
Israel has always enjoyed a strong and close relationship with the United States – and will continue to do so. However, there is no reason why this relationship should come at the cost of Israel's growing relations with China, India, and other countries in the Asia region. My feeling is that these are each bilateral relationships that will only continue to flourish.