China and Israel in the Belt and Road Initiative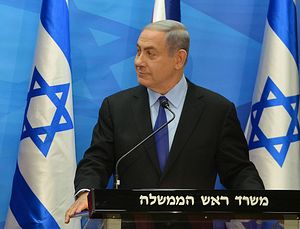 The Diplomat author Mercy Kuo regularly engages subject-matter experts, policy practitioners, and strategic thinkers across the globe for their diverse insights into Asian affairs. This conversation with Roi Feder – Managing Director for APCO Worldwide in Tel Aviv – looks at Israel's role in the Belt and Road, and the implications for China, Israel, and the United States.
What is Israel's role in China's Belt and Road Initiative (BRI)?
While cutting-edge technology and innovation have been the bedrock on which the China-Israel relationship has flourished over the past years, other sectors of its economy should further define the long-term economic and political relationship between the countries. Israel ranked as the second lowest investment risk on the Economist Intelligence Unit BRI risk index, making investment in the market highly attractive for China, which is currently looking for a more strategic regional footprint.
China should pay close attention to the developments within Israel's economy beyond the tech sector, which are due to turn Israel to an even more significant economic power than it is today. Massive developments of energy resources in the Eastern Mediterranean, new ports coming online on its Mediterranean shores, new trade routes between Israel and its Arab Neighbors, a growing geoeconomic alliance between Israel, Cyprus and Greece, and significant financial resources in Israeli investment intuitions, make it a highly attractive BRI market for China.
What BRI challenges and opportunities face Israel?   
Israel views the world primarily through a prism of national security whereas China views the world primarily through the prism of economic interests. This different approach stands to confuse each other's goals and interests as they engage each other. While the opportunities for Israel from the BRI are substantial and could serve to truly upgrade many of Israel's industry verticals, it is also becoming more suspicious as to China's interest in investing in the market  ̶  fearing that China's increasing involvement in Israel's economy could compromise some of Israel's national security interests. Should it not be able to find a balance between national security needs and economic interests, Israel could forego many of the BRI's opportunities.
How might Israel leverage China's growing interest in Israel's innovation ecosystem and infrastructure investment projects?   
Recent reports indicate that China's Vice President Wang Qishan will co-chair the next China-Israel Joint Committee on Innovation Cooperation together with Prime Minister  ̶  and acting Foreign Minister  ̶  Benjamin Netanyahu. Wang's appointment signals an upgrade of the importance China sees in innovation collaboration with Israel.  This change, however, comes at a time of increased challenges for Chinese firms trying to acquire technologies in other Western markets, specifically in the U.S. The growing trade war between the two superpowers will place Israel in a complex position which will likely see growing pressure from its U.S. ally to limit the access of Chinese companies to sophisticated Israeli technologies. To manage this challenge and maintain leverage over Chinese growing interest in Israeli tech, Israel should clearly define the technology focus areas it would promote in its collaboration efforts with China with an aim to foster growing ties in less controversial areas such as new energy, mobility, life sciences, and agriculture.
As to infrastructure, Israel's population is expected to double in size over the next 30 years. It will require an investment of over $200 billion to meet the needs of its population's real estate, transportation, energy, telecommunications, and other infrastructure needs. Its new ports and trade routes to the Arab world will make it significant as an overland gateway to Europe for the Middle East. Its current energy finds and future potential finds will require major infrastructure investments to allow for their full commercialization. By 2021, the 2000 MW Eurasia Interconnector underwater electric cable connecting Israel, Cyprus, and Greece is also set to be fully commissioned operational, allowing Israel to become a net electricity exporter to Europe. Today, Israel's southern sunny region already produces an excess of 200 MW of renewable energy that goes to waste. By 2021 the Eurasia Interconnector should allow for a significant contribution of clean energy from Israel to Europe.
These are developments which are happening regardless of the BRI. China could capitalize on these opportunities, tying them to the BRI vision.
What are Israel's national security concerns, if any, toward China's thriving trade relations with Iran?   
I would argue that China's trade relations with Iran are not thriving. On the contrary, while there is an expectation that the return of U.S. sanctions on Iran provides an opportunity for China to increase its trade with Tehran, this is not the case. Chinese companies that want to do business in the U.S., and Chinese banks that want to conduct business in dollars, are deterred from dealing with Iran. One should only look at the mega loss reported by ZTE for the first six months of 2018, a consequence of sanction-breaking sales of ZTE to Iran.  The extraterritoriality of U.S. sanctions applies to any firm, including Chinese companies. Major Chinese corporations cannot afford to bypass these restrictions that would make the trade of Iran with China as difficult as it is for Europe.
Therefore, while Israel doesn't have greater national security concerns than it has had in the past regarding China's relations in the region, it has more leverage as a stable, thriving, and growing geopolitical power in the region. China will likely pay more attention to this than it has in the past.
Assess policy implications of China's strategic interest in Israel, a primary U.S. security ally in the Middle East.
Voices in Israel's policy circles and mainly in the defense establishment are highly sensitive to Washington when it comes to Israel-China relations. In 1999, Washington forced Israel to cancel the sale of an intelligence aircraft by Israel to China and demanded the resignation of Israel's then Director General of the Ministry of Defense, General (Ret.) Amos Yaron. Since then, Israel has banned any export of defense or dual-use technologies to China.
Given the current decline in U.S.-China relations, concerns in the Pentagon about Chinese growing military investment, and the ongoing trade war between the two superpowers, it's fair to assume that the White House would expect its closest ally in the Middle East to further align with its current China containment efforts. I foresee increased U.S. pressures on Israel to limit China's ability to easily access cutting-edge technologies and investment in strategic assets. There are reports that the Israeli government is considering establishing a CFIUS [Committee on Foreign Investment in the United States]-like mechanism to assess risks to Israeli interests from foreign investors with a focus on Chinese entities. One could assume that other projects could come under similar scrutiny.
Israel will need to walk a fine line in managing its relations with China, not only as it relates to Washington, but also vis-à-vis New Delhi which has become Israel's largest defense customer, and to a lesser extend with Tokyo, all of whom are concerned with China's growing global presence and strengthening military capabilities.