J. Michael Cole on Taiwan and the Indo-Pacific Concept
How does Taiwan fit into the free and open Indo-Pacific?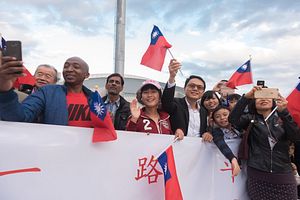 Donald Trump and Shinzo Abe are not the only leaders talking about a "free and open Indo-Pacific." Taiwan's President Tsai Ing-wen has also been using the phrase, signaling her government's interest in the nascent concept. To understand Taiwan's potential role in (and reservations about) FOIP, The Diplomat spoke with J. Michael Cole, editor in chief of Taiwan Sentinel as well as a Taipei-based Senior Fellow with the China Policy Institute/Taiwan Studies Programme at the University of Nottingham, UK and associate researcher with the French Centre for Research on Contemporary China (CEFC).
Since late last year, Tsai Ing-wen has taken to using the phrase "free and open Indo-Pacific" (FOIP) (most recently in April remarks before a delegation from the American Enterprise Institute). Should we take this to mean that Taiwan is explicitly aligning its regional strategy with the Trump administration's?
Since the beginning of her administration, President Tsai has been consistent in her government's support for global standards such as UNCLOS. She, like other leaders, has also adopted the "Indo-Pacific" designation, first used by the Australian government around 2013, that describes a concept rather than an actual, fixed region. The notion of FOIP therefore isn't anything particularly new, or even a direct product of President Trump's regional strategy. It's a longstanding concept, and as a country that seeks to abide by international norms and which seeks to play a constructive role as a responsible stakeholder, it is only natural that Taiwan would express support for FOIP.
There were some doubts as to Taipei's commitment to such concepts when it, like Beijing, refused in July 2016 to recognize the validity of the Permanent Court of Arbitration (PCA) in its ruling on the South China Sea. However, unlike Beijing, which categorically refused to abide by the ruling and maintains its wide-ranging claims over the region, Taipei did so for different reasons — chief among them the fact that Taiwan, one of the claimants in the South China Sea, was excluded from all talks and the ruling's categorizing Itu Aba (Taiping Island), which Taiwan controls, as a mere "rock" rather than a feature which can sustain human habitation. Excluding that response, Taiwan has always been committed to UNCLOS, freedom of navigation, and so on, and now this concept has been extended to the entire Indo-Pacific, such as it is.