The Taiwan Relations Act at 40
40 years after the U.S. passed a law to govern unofficial ties with Taiwan, the world has shifted dramatically.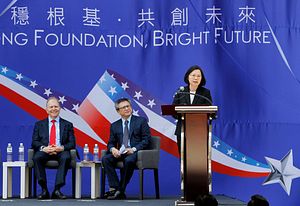 April 10, 2019 marks the 40th anniversary of the United States' Taiwan Relations Act (TRA). The TRA serves as one of the defining documents authorizing U.S.-Taiwan relations, alongside the Three Joint Communiques issued by Washington and Beijing and the Six Assurances offered from the United States to Taiwan. Over the course of 40 years, and due the TRA's legally binding mandate, relations between the two sides have flourished and deepened, further buttressed by shared values that came with Taiwan's democratization in the 1990s. Yet, while the TRA remains a cornerstone for both U.S. policy toward Taiwan and the United States' "One China" policy, the spirit of the document as envisioned by its founders has come under increasing strain from China's growing challenges to both Washington and Taipei – detracting from the TRA's declared intentions and effectiveness in managing U.S.-Taiwan relations and safeguarding Taiwan.
History of the TRA
The strategic environment that shaped U.S. policy toward Taiwan – and the passing of the TRA into law – falls against the broader backdrop of Cold War politics that marked the latter half of the 20th century. In the immediate aftermath of the Chinese Civil War, President Harry Truman declared that Washington had no intention of becoming involved in any cross-strait scenario. A shift in U.S. thinking, however, came with the Korean War and the assessment that belligerent moves by communist forces, including against Taiwan, threatened U.S. security interests in the Pacific.
Thus, Washington continued its formal relationship with the Taiwan-based Republic of China (ROC), including maintaining an embassy in Taipei, signing the Sino-American Mutual Defense Treaty, and stationing U.S. troops on the island. However, in the aftermath of the Sino-Soviet split, the United States sought to normalize relations with the People's Republic of China (PRC). Efforts began under the Nixon administration in the 1970s and spanned three separate presidencies. During the negotiations, the PRC maintained three bottom lines: (1) no diplomatic relationship could be maintained with Taipei if the United States were to establish official relations with Beijing, (2) the Mutual Defense Treaty with the ROC must be severed, and (3) U.S. troops must be removed from Taiwan. The first point is, in effect, the PRC's assertion of its "One China" principle, which holds that a country must "recognize the government of the PRC as the sole legitimate government representing the whole of China" when establishing formal ties with Beijing and thus "sever or refrain from establishing diplomatic relations with the Taiwan authorities."
U.S. diplomats and representatives finessed language to avoid endorsing the PRC's view.