Lawfare Waged by the Hong Kong Government Is Crushing the Hopes of Democrats
In Hong Kong, the law is being used to intimidate opponents, disqualify lawmakers, and limit freedom of expression.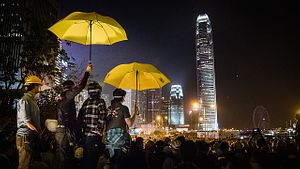 Law is being used to silence the democracy movement in Hong Kong.
One in three pro-democracy legislators has been prosecuted by the government since the Umbrella Movement of 2014. More than 100 democracy activists and protestors have been prosecuted. The secretary of justice has constantly sought to maximize sentencing, slapping years of jail time on young students and digging up obscure, outdated charges – designed for 19th century Britain, not 21st  century Hong Kong – to increase the time that pro-democracy figures spend in jail.
Hong Kong's political system is rigged in favor of the establishment. A committee of 1,200 people made up of tycoons, property developers, and other elites chooses the chief executive. Forty percent of the seats in the Legislative Council are decided by functional constituencies, elected not by the general population but by businesses and professions, which consistently vote to maintain the status quo. Despite the democrats representing 60 percent of the popular vote, they have no way of holding the secretary of justice, who oversees prosecutions, to account.
As a result, the law is being used to intimidate opponents, disqualify lawmakers, and limit freedom of expression. Legal commentator Antony Dapiran has called the strategy "lawfare" – the use of law as a tool in the political battle to create conformity.
The conviction of Baggio Leung and Yau Wai-Ching, two localists elected as legislators in 2016, on charges of "illegal assembly," is just the latest example of lawfare against democrats. Accused of attempting to barge their way into a meeting after they were barred from entering to retake their oaths as lawmakers, they could be jailed for up to three years for gathering in the legislature to which they had been elected. Their failure to take their oath in the correct manner the first time would, in most normal democratic legislatures, have been addressed through an internal disciplinary mechanism – a temporary suspension from the chamber, perhaps, followed by a chance to retake their oath "properly." Indeed, that is what Hong Kong's legislature offered and past precedent provided for, but Beijing reinterpreted the Basic Law, effectively amending the legislation, and turned it over to the courts. Instead of being given the second chance they should have had, they were disqualified from the legislature, denied the right to retake their oath or appeal, and convicted of a criminal offence that could land them in jail. The mix of farce, absurdity, and cruelty is astonishing.
A few days previously, democratic legislator Ted Hui Chi-fung was released by the police on bail, facing potential prosecution on four charges including criminal assault, dishonest access to a computer, obstructing a public officer, and criminal damage. His actions were undoubtedly absurdly foolish – he took it upon himself to snatch a mobile phone from a civil servant in the legislature, claiming she was monitoring the whereabouts of lawmakers in order to marshal their support for a government bill. He disappeared into the men's toilet for a few minutes with her phone. In any other legislature, Hui would be subject to some disciplinary sanction for such a stupid act – perhaps suspension for a day or two – but the disproportionate criminal charges take an already farcical case to even greater heights of absurdity.
Outside the Legislative Council chamber, the crackdown on protestors and democracy activists has been even more intense. The founders of the Occupy Central protests in 2014, Benny Tai and Chan Kin-man, are being charged with "public nuisance," "incitement to public nuisance," and "incitement to incite public nuisance." Public nuisance charges in common law jurisdictions are designed typically for young delinquents who kick over bins and are supposed to be accompanied by a punishment of community service. Benny Tai and his colleagues are facing up to seven years in jail as the secretary of justice has concocted a cocktail of charges designed to maximize the punishment against peaceful protest for democratic reform.
And, separately, more than 100, predominantly young, people have been charged under the Public Order Ordinance. These charges are clearly politicized, as is evidenced by the fact that members of the establishment do not receive the same treatment. Police violence during protests was excessive, yet in the majority of cases has gone unpunished or investigated. Junius Ho called for those who advocate Hong Kong independence to be "killed mercilessly," yet he has not been prosecuted – due to "lack of evidence." Where has the principle of everyone equal before the law gone?
It is worth noting that the problem lies with the choice of prosecution and the abuse of law by the state, not the independence of the judiciary. By and large, judges' integrity is still intact. But the rule of law is increasingly threatened by its unequal application.
So what is the way forward?
First, in order to protect the rule of law in Hong Kong, the secretary of justice, who is a political appointee, should no longer be in charge of prosecutions. In Britain, for example, prosecutions come under the director of public prosecutions and the Crown Prosecution Service – the secretary of justice shapes the policy, not the prosecutions.
Second, it is time for the international community, and the United Kingdom in particular, to press China to allow the genuine universal suffrage, which the people of Hong Kong were promised under the Sino-British Joint Declaration, to protect the rights guaranteed under the Basic Law, and to ensure proper checks and balances are in place for the executive, legislative, and judicial system.
Third, democrats of all shades in Hong Kong need to reflect on their own conduct and exercise both greater unity and maturity. Swearing at China in an oath-taking ceremony or stealing an official's mobile phone are not sensible acts conducive to advancing democracy. They are foolish and counterproductive. Nevertheless, they are moments of stupidity not criminality, and are born out of the depths of frustration to which Beijing's broken promises and the Hong Kong government's failure to stand up for Hong Kong have driven them. They deserve a sympathetic frown and a friendly raised eyebrow, not a prison sentence and a criminal record.
Lastly, while some individuals have acted unwisely, Hong Kong's democrats include many deeply impressive, inspiring people, of all generations and persuasions, who deserve the admiration and support of the world. For the younger generation in particular, they deserve respect – they do not deserve, by any measure, to spend their formative years behind bars. It is time to get behind Hong Kong's democrats, and put an end to Beijing's "lawfare."
Benedict Rogers is founder and Chair of Hong Kong Watch, and East Asia Team Leader at Christian Solidarity Worldwide.