More Than Meets the Eye: The 2018 Japan-China-South Korea Trilateral Summit
Wednesday's trilateral summit will add momentum to — and raise the stakes for — the upcoming Trump-Kim meeting.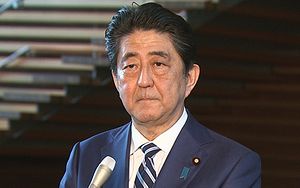 Wednesday's meeting in Tokyo between Japan's Prime Minister Shinzo Abe, South Korea's President Moon Jae-in, and Chinese Premier Li Keqiang will add momentum to, and raise the stakes for, U.S. President Donald Trump's meeting next month with North Korea's Kim Jong-un. Although the agenda for the summit will include economics, finance, disaster cooperation, and some historic issues, it will be dominated by the recent political and strategic thawing in North Korea and the upcoming Trump-Kim meeting.
The three leaders will seek to coordinate views on the desired outcomes of the Trump-Kim meeting through a joint statement on the denuclearization of North Korea. China will push for incremental economic assistance in exchange for phased denuclearization while Japan and South Korea will promote the White House's "maximum pressure campaign," since North Korea has used a phased approach to deceive the international community in the past. Abe will ask that abductions and WMDs, including all missiles, be reflected in the statement. In the end, we are likely to see wording similar to the Panmunjom declaration, keeping a vague definition of denuclearization in order for Trump and Kim to hash it out at their upcoming summit.
The leaders will also be eager to hear from each other on what was discussed in their recent meetings: the April 27 inter-Korean summit, Kim's visit to Beijing, recent contacts high-level Chinese officials — including Foreign Minister Wang Yi — have had with Kim, and Moon and Abe's meetings with Trump. Moon and Abe have similar — yet not identical — goals for the Trump-Kim meeting, and will want to hear from Li about China's strategic interests regarding North Korea, and what Kim Jong-un's real endgame may be: simply garnering the international prestige that comes with meeting a U.S. president; gaining immediate sanctions relief in return for symbolic – and reversible – limits on his nuclear arsenal; or a shift toward a China or Vietnam-style capitalism and long-term economic growth  (a North Korean "Marshall Plan") in exchange for complete and verifiable denuclearization.
The bilateral meeting with Moon may be Abe's most important. Since Moon has been the driver on easing tensions with North Korea and brokering the upcoming Trump-Kim talks, Abe will seek reassurance from his counterpart that he'll continue to press Kim, Trump, and Xi on the issue of Japanese citizens abducted by North Korea. Last week's grand tour of the United States by the abductees' family members raises the stakes for Abe. If any progress on the issue is made in Trump's meeting, it will benefit Abe, who is currently politically foundering in the lead up to the September LDP elections.
The two leaders also have a common interest in the destruction of North Korea's WMDs, not only its nukes. U.S. National Security Advisor John Bolton, Secretary of State Mike Pompeo, and Abe have all stated publicly that North Korea must give us its entire WMD program — including missiles and chemical and biological weapons — prior to talks of easing international sanctions. Moon has been more cautious, but cannot ignore the fact that North Korea possesses what is reported to be the world's third largest stockpile of chemical weapons, only behind the United States and Russia, and may have weaponized biological agents such as smallpox and anthrax. These lethal agents would be easily deployable on any attack on Seoul. If Kim used VX to have his own brother killed in public, what would stop Kim from using these weapons on Seoul or Tokyo if war breaks out? Moon and Abe will seek a common line to ensure that Trump does not focus only on nuclear weapons to the exclusion of other WMDs.
Now that the world is aware of Trump's potential plan to discuss U.S. troop drawdown on the Korea Peninsula at some point after his meeting with Kim, both Abe and Moon have reason to discuss the reality that has long loomed before them: that U.S. power is diminishing in the region in light of China's continued military and economic ascent. For Abe and Moon, Trump's well-known isolationist tendencies and his campaign rhetoric asking for greater military burden-sharing from allies, are becoming a political and military reality. South Korea and Japan deeply distrust China, seeing it as a revisionist power whose strategic objective is to once again become the hegemon in Asia. Abe will encourage Moon to do more to build ROK-Japan military cooperation to convince the United States of the value of its principal Asian allies and to be ready in case the drawdown of U.S. forces begins to take place.
Separately, Abe will have his third meeting with Li in an attempts to restart China-Japan relations. Talks may begin by paying lip service to proposed regional and trilateral FTAs, China's Asian Infrastructure Investment Bank, and the Belt and Road Initiative, and finalizing the maritime and aerial communication mechanism but expect the meeting to quickly shift to North Korea. Abe will reiterate his request for Xi to bring up abductees, missiles, and WMDs when he meets with Kim Jong-un and highlight the importance of continued "maximum pressure" on North Korea, including China's role in UN sanctions enforcement.
All three countries share a mutual interest in the ultimate success of the Trump-Kim meeting. The North Korean statement will be symbolic, setting the tone for future cooperation. For Abe, a return of even a few abductees would boost his ratings and help him toward his ultimate and highly controversial goal of revising Article 9 of the Japanese constitution. Abe and Moon also have stakes in the removal of North Korea's WMDs, especially chemical and biological. Long term, Moon and Abe will have to address the potential ramifications of diminished U.S. troop presence on their home turf and the strategic and political implications that will have on the future security and stability of the Asia-Pacific region. Moving forward, Japan and South Korea's best bet may be to form their own version of a Northeast alliance structure.
David Kim is a former White House and State Department official. David worked at the U.S. Department of State where he helped to advance the Obama Administration's priorities around nuclear nonproliferation, international security, and U.S.–Japan relations. You can follow him on Twitter at @davidkimdc