Russia's Strategic Rocket Force to Receive RS-28 Sarmat ICBM By 2020
Delivery of the RS-28 Sarmat ICBM is scheduled for 2020, according to Russian President Vladimir Putin.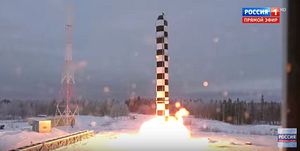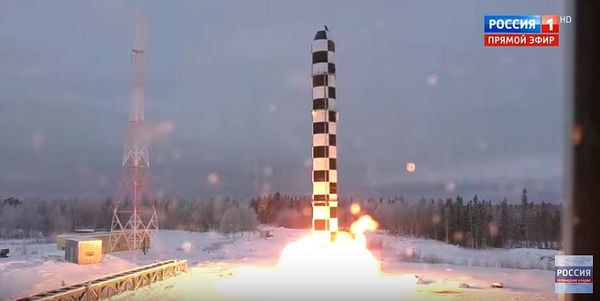 Russia's Strategic Rocket Force will receive its new intercontinental-range ballistic missile (ICBM), the super-heavy thermonuclear-armed RS-28 Sarmat (NATO designation: SS-X-30 Satan 2), in 2020, Russian President Vladimir Putin said in a meeting with senior Russian military and defense industry officials in Sochi on May 18.
"Trials of other promising systems continue. Soon, they are to begin service in our strategic forces. I mean first of all the Sarmat system that is to enter operational service in 2020, the Avangard system that is to become operational in 2019 and other systems," Putin said. Putin previously revealed the existence of the Avangard hypersonic boost-glide warhead during his annual State of the Union address on March 1. (The Sarmat can reportedly be fitted with hypersonic boost-glide warheads.)
As I reported in March, the first Strategic Rocket Force regiment armed with the Sarmat ICBM is expected to deploy by 2021. The first unit to be equipped with the new ICBM will purportedly be a regiment of the 62nd Missile Division, deployed in Uzhur, and of the 33rd Guards Missile Army, headquartered in Omsk in southwestern Siberia. The Sarmat will gradually replace the entire divisions stock of Soviet-era RS-36M2 Voyevoda (NATO designation: SS-18 Satan) ICBMs. The silo-based RS-28 is expected to replace all RS-36M2s currently in service with the Strategic Rocket Force by the mid-2020s.
"[T]he regiment will first receive two RS-28 ICBMs, and is expected to deploy a total of six RS-28s. (Missile regiments consist of up to 10 missiles and around 400 military personnel.)," I reported in March. "The RS-36 — the current mainstay of Russia's land-based ICBM force — will slowly be phased out beginning in the 2020s. The RS-36s are expected to stay in service until at least 2024, but their service life may be extended up to 2027 depending on the RS-28 induction schedule."
As I reported elsewhere, the Sarmat program has been plagued by numerous delays and it remains doubtful that the ICBM will be operational by 2021.  In March, Russian missile engineers conducted a much anticipated ejection test at the Plesetsk space center, located in Arkhangelsk Oblast. A previous ejection test occurred in December 2017, which apparently revealed a number of technical deficiencies with the silo-based launchers. Ejection trials test the mechanism of a missile leaving its launch container or missile silo.
A test of the Sarmat's first stage engine, named PDU-99—most likely a modified version of the RD-274 liquid rocket engine used on the RS-36M2–took place in August 2016.