Should India Take Pakistan's Overtures Seriously?
Pakistan's COAS indicate he's ready to seek peace. How should India respond?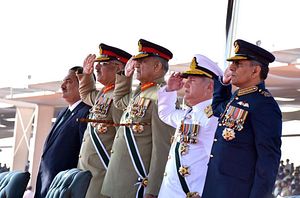 Over the past couple of months, both India and Pakistan have been trying to lower the temperature of their bilateral relationship through goodwill gestures and reconciliatory statements.
While both sides have reiterated their commitment to amicably resolve the issue of the harassment of their respective diplomats, India and Pakistan have also agreed to some humanitarian gestures with regard to prisoners languishing in jails on both sides.
There have also been indicators that India and Pakistan are keen to revive economic ties and give a boost to bilateral trade, which is way below potential.
In March, Indian High Commissioner to Pakistan Ajay Bisaria, while addressing the Lahore Chamber of Commerce and Industry, spoke about the need for greater bilateral trade:
We should not talk about negative and positive lists; rather we should work on the windows of opportunities. At present, over $5 billion trade is being done through third country but after removal of non-tariff barriers, liberalization of visa and normalization of mutual relations, the two-way trade could touch a high $30 billion.
This month, Bisaria, while addressing the Employers Federation of Pakistan, and South Asian Forum of Employers, reiterated the need to increase the level of trade. He also said that if South Korea and North Korea could work toward resolving their serious differences, there is no reason why India and Pakistan could not do the same.
In April, Pakistan High Commissioner to India Sohail Mahmood met with the chief minister of Punjab (India), Captain Amarinder Singh, and discussed possible areas where both countries can cooperate. The two emphasized not only reviving people-to-people contact between the two Punjabs, but also boosting to trade through the Wagah-Attari land route. In the two periods (2004-2007 and then 2011-2014) when India and Pakistan,made headway in terms of connectivity and economic linkages, the two Punjabs played a pivotal role.
Change in Mindset of the Pakistan Army
One interesting commentary by Kamal Alam, published by the premier British think-tank Royal United Services Institute (RUSI) emphatically argues that there is a paradigm shift in the mindset of the Pakistani military under the leadership of current Chief of Army Staff (COAS) Qamar Ahmed Bajwa. Alam says that there is now a genuine realization by Pakistan's military of the need to move away from a zero-sum approach.
The commentary, titled, "Pakistan's military reaches out to India," refers to an address by Bajwa last year, where he made a case for India being part of the $60 billion China-Pakistan Economic Project (CPEC). The Pakistan army chief stated, "The Pakistan army is now no more insecure and feels confident of its future and that he welcomes Indian participation in Pakistan's flagship infrastructure project, the China Pakistan Economic Corridor (CPEC)."
Alam also points to some other instances, such as Bajwa's speech at the passing-out parade of cadets at the Pakistan Military Academy in Kakul, where the Pakistan army chief referred to the necessity of dialogue between both countries, and an invite to the Indian Military attache, Sanjay Vishwasrao, and other senior diplomats posted at the Indian High Commission to attend the military parade to mark Pakistan's National Day.
Another interesting development flagged by Alam is the upcoming military drill to be conducted under the umbrella of SCO in September 2018, in which both India and Pakistan (along with other member nations) will participate.
Alam argues that a change in the Pakistan army's mindset has been visible since 2013, when Major-General Ahmed Hayat, the director-general for analysis at Pakistan's Inter-Services Intelligence, authored what was dubbed as the India Plan. While agreeing that engagement and not conflict was the answer, the report sought to identify the appropriate time to reach out to India from a position of strength.
Possible Explanations
While Alam's report has generated a lot of interest, a few facts need to be borne in mind.
First, at the recent meeting between Indian Prime Minster Narendra Modi and Chinese President Xi Jinping, China (without making mention of Pakistan) was ready to flag terrorism as a key concern. In recent months, China has given some indications that may be willing to rethink its approach toward terrorism emanating from Pakistan. Pakistan is set, for instance, to be put on the watchlist of the Financial Action Task Force (FATF); Beijing was initially opposed to this move but relented after India lent its support to Beijing for the vice presidency of the FATF.
China has of course been calling for a better relationship between New Delhi and Islamabad for some time, keeping in mind its own economic interests, and has even asked New Delhi to be part of CPEC. New Delhi has been steadfast in its opposition to the BRI, given the fact that CPEC passes through disputed territory. Given the changing dynamics in the New Delhi-Beijing relationship, it is likely that Bajwa and the upper echelons in Pakistan are making the right noises now to look good to the international community, especially China.
Second, the incumbent Pakistan Muslim League-Nawaz (PML-N) civilian government has been under siege in the past two years. While the weakening of former Prime Minister Nawaz Sharif began with the Tahir Ul Qadri and Imran Khan protests (backed by the Pakistan army) in 2014, ever since the Panama Papers leaks in April 2016, things have gone swiftly downhill. In July 2017, Sharif was disqualified by the Supreme Court from holding any public office, and had to resign; in April 2018, he was disqualified from holding any public position for life.
Sharif argued that the judiciary and military are jointly conspiring against him. One of the points of divergence was Sharif's efforts to better relations with India.
Relations between Sharif's rival Imran Khan, leader of the Pakistan Tehreek-e-Insaf (PTI) and the army have improved considerably, according to some. There is a good chance that the PTI, backed by the military establishment, may win in the upcoming elections. Bajwa's statements, could be a message to India that New Delhi will have to engage with the military in case the PTI comes to power.
In this context, Bajwa has been trying to cultivate for himself the image of a pragmatist not opposed to peace. A few months ago in an article written for The News, Omar Warraich summed this up:
The Bajwa doctrine stands for regional peace and, like China, wants to make peace with India while keeping our differences on core issues. The doctrine is ready for peaceful negotiations but without compromising on the Kashmir issue. The doctrine is fully aware of the Chinese advice to Pakistan that instead of war, other peaceful measure be negotiated for Kashmir issue.
Conclusion
It is important for New Delhi to wait and watch while engaging with the business community and Pakistan's vibrant civil society. Not much should be read into Bajwa's remarks. While they should be taken note of, and not dismissed, it is a bit premature to be optimistic. After all, the army has been backing the Milli Muslim League (MML), the political front of the JuD, headed by Mumbai terror attack mastermind, Hafiz Saeed.
India will also need to see the ultimate outcome of the upcoming election before formulating a response. A civilian government (possibly headed by PTI) beholden to the military establishment will not address India's concerns. The best thing for India-Pakistan relations would be a firm civilian government in Pakistan that has the fervent backing of the people (this may not happen in the imminent future, but it does not mean that such a possibility can be ruled out in the long run). The Pakistan Army chief's words would have had more meaning if he had backed Sharif's attempts to improve ties with India, and not joined hands with the judiciary to plot his downfall.
Tridivesh Singh Maini is a New Delhi-based policy analyst associated with the Jindal School of International Affairs, OP Jindal Global University, Sonipat.