The Biggest Challenge for Pakistan's Next Prime Minister
As premier, Imran Khan's greatest challenge will be detaching himself from the Army's strings.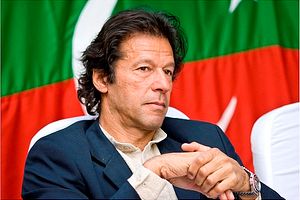 While most of the pre-election surveys had predicted a steeply hung parliament, cricketer turned politician Imran Khan's Pakistan Tehreek-e-Insaf (PTI) is set to bag a majority in the National Assembly.
With the official results set to be announced later on Thursday night, Khan's PTI needs a few independent candidates to form the government in the center and Punjab, the country's most populous and coveted province.
Additionally, the PTI has not only maintained his control over Khyber Pakhtunkhwa, it is all set to establish a two-third majority. It has also swept the Potohar region in northern Punjab, and won almost half of the National Assembly seats in Sindh's capital of Karachi, Pakistan's business hub.
In Balochistan, the Balochistan Awami Party (BAP) is expected to ally with the PTI, to ensure that Khan's party will truly establish itself across the country.
The election results mean that Khan is set to fulfill a decades-long ambition of becoming the prime minister of Pakistan, and brace himself for the challenges that come with that position.
A sinking rupee epitomizes a jarred economy that is crying out for a bailout package, most likely from the International Monetary Fund (IMF). Diplomatic challenges include a volatile neighborhood collectively accusing Pakistan of harboring terrorism, with Islamabad placing all its bets on Beijing, and the China-Pakistan Economic Corridor (CPEC) that is already being dubbed a neocolonialist project.
The Islamic State (ISIS) claiming the election day bombing in Quetta put forth yet another grotesque reminder of the global terror group's presence in Pakistan. Last month, the terror watchdog Financial Action Task Force (FATF) grey-listed Pakistan and set a 10-point task list, underlining the global distrust in Islamabad's counterterror policies.
In his first speech following unofficial results confirming his triumph, Imran Khan struck many of the right chords. He addressed the opposition parties' claims of rigging in the elections, and followed up on his narrative of improving governance, clamping down on corruption and elevating the status of the marginalized.
However, it is while elaborating his foreign policy that the PTI chairman put forth a progressive course of action, conspicuously by underscoring the economic worth of improved ties with India, saying that "if India takes a step forward, we will take two."
While Khan is making the right noises early, when one juxtaposes Pakistan's challenges with his declared plan of action, it is evident that the greatest challenge for Pakistan's next prime minister will be detaching himself from the strings of the all-powerful Army, which has facilitated his rise to the top.
Like Zulfiqar Ali Bhutto, and more recently Nawaz Sharif, Imran Khan has been a military stooge, backed by the establishment to cut popularly backed leaders down to size once they challenged the Army's hegemony over certain spheres, most notably security and diplomacy.
Considering the fact that the Army wanted Nawaz Sharif out largely because of the former premier's desire to improve relations with India, for Khan to touch on the financial benefits of reconciliation between Islamabad and New Delhi is a statement of intent.
But it will also be a test of his ability to walk the talk in the months to come, especially given that India-Pakistan ties have traced their nadir over the past couple of months, and the Indian media has vociferously expressed skepticism vis-à-vis the upcoming Khan regime.
What might prove to be an even bigger challenge to follow through on is his "accountability for all" rhetoric. Followed through to its logical extent, that would require Khan to bring former military chiefs like Ashfaq Parvez Kayani and Pervez Musharraf to court, and curtail the corrupt practices within the Pakistan Army. Of course, Nawaz Sharif strongly believes that he was ousted for opening the treason case against Musharraf.
Even so, the PTI government's relations with the Army leadership, and Imran Khan walking away from his own undemocratic past, hinge on the civil-military tussle to control Pakistan's duplicitous security policy.
Without overturning the Army's strategy of backing jihadists as foreign policy tools and as militant wings to reaffirm its political ambitions domestically, no governance or economic model would function in the country.
Hence, for Imran Khan, often touted as a "master of U-turns" for his habitual volte-faces, one last drastic U-turn is needed for him to lead a struggle for civilian supremacy. His Taliban apologia could be dumped as political rhetoric and submission to the military leadership deemed a political necessity if he initiates a fight to turn Pakistan's masochistic jihadist policy on its head.
But going by his predecessors' fate, Khan knows fully well that treading this line has only resulted in Army-orchestrated power decapitation throughout Pakistan's political history.