Singapore Warship's Vietnam Visit Highlights Defense Ties
First such voyage in 2018 comes amid a busy week for the bilateral relationship.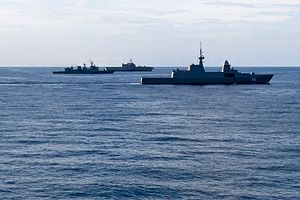 On April 26, a Singapore warship visited the Vietnamese city of Danang. The visit, which saw both sides undertake a series of interactions, came amid a busy week for the broader bilateral relationship as both sides commemorate another anniversary tied to the initial establishment of their diplomatic ties.
Though contemporary Singapore-Vietnam relations had initially been under the shadow of the Cold War, the two countries established diplomatic ties in 1973 and have looked to strengthen relations even further over the past few years, with the inking of a strategic partnership occurring in 2013. Indeed, on April 25, Vietnamese Prime Minister Nguyen Xuan Phuc had begun a visit to Singapore ahead of a series of ASEAN meetings that saw the two countries ink a host of agreements mostly focused on the economic realm as they commemorated the 45th anniversary of the establishment of their diplomatic ties.
While Phuc's visit was taking place in Singapore, a bilateral defense interaction was taking place between the two sides in Vietnam. From April 26 to April 29, RSS Intrepid, an RSN Formidable-class frigate, arrived at Tien Sa port for a visit to the city of Danang, which has been a key area for economic activity between the two sides. The vessel, with 150 officers and crew members on board, was captained by Senior Lieutenant Colonel Joseph Neo.
Naval visits have become rather routine within the context of the broader Singapore-Vietnam defense relationship, which covers areas such as visits, training, and exchanges, including in the naval domain, as well as collaboration in broader regional and multilateral contexts. The RSS Intrepid's arrival marked the first such visit by Singapore to Vietnam so far this year, as the city-state holds the annually rotating chairmanship of the Association of Southeast Asian Nation (ASEAN) for 2018 which Hanoi will take on in 2020.
In terms of the Intrepid's visit itself, the Vietnamese military said that the visit included a series of visits by the Singapore delegation, including to Naval Region 3 Command, Military Region 5 command, and the touring of some parts of the city. There would also be a training session on search and rescue as well as practicing international maritime signals and communications.