Vietnam-Singapore Defense Relations in the Headlines With Military Chief Introductory Visit  
The trip spotlighted ongoing efforts by both Southeast Asian states to develop their defense relationship.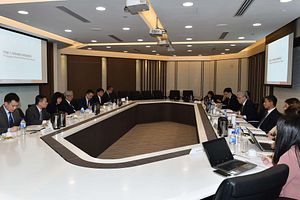 Late last month, Vietnam's deputy defense minister and military chief of staff paid a visit to Singapore as part of a two-country trip that also included Japan. The visit spotlighted some of the ongoing activity in the Vietnam-Singapore defense relationship, which both sides look to continue to develop into 2019.
As I have noted before in these pages, while contemporary Singapore-Vietnam relations had initially been under the shadow of the Cold War, the two countries established diplomatic ties in 1973 and have looked to strengthen relations even further over the past few years, with the inking of a strategic partnership occurring in 2013. The defense aspect of the relationship has included a range of interactions including visits, courses, exchanges, and dialogues that were placed under the framework of a defense cooperation agreement back in 2009.
That has continued on over the past year as well. 2018 saw an emphasis on promoting the relationship, including the defense side, as the two countries commemorated the 45th anniversary of the establishment of diplomatic ties and Singapore held the chairmanship of ASEAN, which Vietnam will assume in 2020.
Late last month, the defense relationship was in the headlines again with the visit of the Vietnamese People's Army (VPA) chief of general staff and vice defense minister, Phan Van Giang. As I noted earlier this week, the visit by Giang, along with a high-level Vietnamese defense delegation, was part of a wider two-country trip that also included a stopover in Singapore as well from February 28 to March 5, which Vietnamese officials had characterized as an ongoing attempt to review the state of security ties as well as lay out the direction for future trajectory of these relationships (See: "Japan-Vietnam Defense Relations in Focus with Military Chief Visit").
Giang's trip to Singapore from February 28 to March 2, which was his first visit to the city-state in his current capacity, included a series of interactions. In terms of meetings, he met with Singapore officials including Chief of Defense Force Lieutenant-General Melvyn Ong, his official host for the visit, and Defense Minister Ng Eng Hen.
Official accounts by both sides stressed that the meetings touched on a series of issues, including the state of bilateral ties as well as regional and international security issues of mutual interest including collaboration in multilateral fora and the North Korea issue in the wake of Vietnam's hosting of the second Trump-Kim summit. Vietnam's defense ministry said that Giang had raised regional security challenges including the South China Sea and intensifying strategic competition among powerful countries and reinforced Hanoi's determination to strengthen the regional architecture during its ASEAN chairmanship in 2020.
Few details were publicly disclosed about the content of these meetings and other related activities during Giang's visit, even though official accounts stressed that the visit was also geared at reinforcing the defense partnership and outlining specific ways by which this could be accomplished in the coming months and years. Singapore's defense ministry (MINDEF) also noted that Giang's trip saw him visit defense facilities in the city-state, in particular a trip to the Infantry Gunnery and Tactical Simulator at Pasir Laba Camp, where he viewed a demonstration of the simulator.