Taiwan Reaches Preliminary Deal to Upgrade 2 Diesel-Electric Subs
The Taiwanese government and Dutch firm RH Marine reached a deal to upgrade two diesel-electric submarines.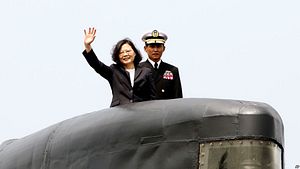 The Taiwanese Ministry of National Defense announced earlier this week that it has reached an agreement with Dutch maritime systems integrator RH Marine for the upgrade of  two Hai Lung-class (improved Dutch Zwaardvis-class) submarines — the Hai Lung (Sea Dragon) 793 and Hai Hu (Sea Tiger) 794 currently in service with the Republic of China Navy (ROCN).
The agreement was reached after a year-long evaluation and a preliminary assessment of upgrade needs summarized in an initial report. Rotterdam-based RH Marine is now expected to conduct an additional feasibility study of the project. A contract is slated to be signed next year and the modernization work itself will reportedly be carried out between 2020 and 2022.
The aim of the upgrade project is to extend the submarines operational lifespan into the late 2030, according to the defense ministry. The life extension program will be overseen by the military-run Chung-shan Institute of Science and Technology. To upgrade cost are estimated at around $13 million.
The ROCN has been operating the Hai Lung and Hai Hu for over 30 years. The two subs first entered service in 1987 and 1988 respectively. The retrofitting will most likely include hull, mechanical, and electrical upgrades, as well as non-propulsion electronic system modifications including upgrades to the TIMNEX 4CH(V2) electronic support measures system and a new combat system.
As I reported previously, the U.S. Department of State has approved licenses for U.S. defense firms to sell U.S.-made submarine technology to Taiwan in April. As a result, U.S. defense contractor General Dynamics is expected to offer its AN/BYG-1 submarine combat management system.
In June 2017, the U.S. State Department also approved the sale of 46 advanced MK-48 Mod 6AT heavyweight torpedoes to the ROCN.
In December 2014, Taiwan also announced the Indigenous Defense Submarine (IDS) program with the aim of building a fleet of eight domestically designed and developed diesel-electric attack submarines (SSKs). As I reported in March 2017, the IDS is divided up into two phases:
The first phase consists of completing design work on Taiwan's new class of attack subs for the government allocated approximately NT$2 billion ($65.66 million). The second stage entails the construction of the new boats with the ambitious goal of finishing construction in eight years and commissioning the subs into service with the ROCN within a decade. (Each sub could cost as much as $1 billion, according to The Diplomat estimates.)
According to defense ministry plans, the first domestically-built SSK is expected to be operationally deployed by 2026. Taiwan is also slated to upgrade its other two remaining subs, two World War II-era U.S.-made Guppy-class boats.