The China-Japan Infrastructure Nexus: Competition or Collaboration?
Can China and Japan cooperate in building Southeast Asia's much-needed infrastructure?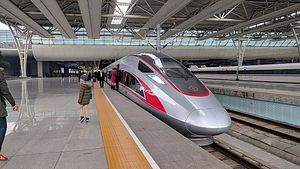 China and Japan are fueling intensified efforts to build infrastructure in Southeast Asia. Both countries have placed infrastructure at the heart of their regional strategies in a new era of infrastructure diplomacy. China launched its flagship Belt and Road Initiative (BRI) in 2013, while Japan initiated its "Partnership for Quality Infrastructure" in 2015. At the same time, ASEAN countries are reorienting their growth strategies toward prioritizing infrastructure. China and Japan are facilitating this shift through offering large amounts of financing and seeking to increase their infrastructure exports.
Across the region, the big ticket infrastructure contracts are being fought over almost exclusively by Chinese and Japanese firms. As ASEAN's most heavily populated country, Indonesia provides a good case in point to illustrate these trends. Between 2015 and 2019, the Indonesian government estimates the country needs approximately $360 billion of infrastructure investment. The country is spending more on transport infrastructure than Singapore, Malaysia, Thailand, Vietnam, and the Philippines combined. Of particular interest to Japanese and Chinese financiers and contractors has been Indonesia's desire to build high-speed rail (HSR).
The first major HSR project opened for bidding was the 150 km HSR link from Jakarta to the country's fourth largest city, Bandung. After five years of due diligence and feasibility studies, Japanese officials felt close to securing the project in 2015. As the window for bidding drew to a close, a Chinese offer sought to undercut the Japanese and change the specifications of the HSR. The Chinese side did not require a full Indonesian government guarantee, in contrast to the Japanese offer.
A race to the bottom ensued with both China and Japan putting more money on the table and reducing the time frame for project completion. Ultimately, the Chinese consortium was awarded the project. In response, the Japanese side accused the Chinese consortium of offering unrealistic time scales and underestimating project costs. Construction commenced in January 2016, but the project stalled thereafter and has only recently resumed, due to rising project costs and funding difficulties.
However, winning this deal has not resulted in Chinese firms monopolizing all rail contracts in Indonesia. In another sign that the Indonesian government wants to maintain an environment of competition between Chinese and Japanese construction firms; a contract was awarded to a Japanese consortium in October 2016 to upgrade the rail link from Jakarta to Surabaya.
This infrastructure competition between Japanese and Chinese firms is not unique to Indonesia, but extends throughout Asia. Later in 2018, the prized $17 billion contract for the Kuala Lumpur to Singapore high-speed rail link will be awarded to either a Chinese consortium led by China Railway Corporation or a Japanese one led by JR East. In 2015, Bangladesh chose a Japanese consortium ahead of a Chinese one to develop the $4.6 billion Matarbari deep sea port. The competition is beginning to heat up outside of Asia too; particularly in Africa.
While this infrastructure competition should result in better and cheaper deals for recipient countries, it also comes at a cost for Chinese and Japanese financiers and contractors. In order to secure deals, the competition pushes financiers into riskier deal structures often involving heavily subsidized loans without government guarantees. These arrangements have a lower probability of being repaid, and reduce the profit margins of both countries' construction firms.
While these battles for infrastructure contracts rage on around the world, there have been recent signs that both countries' governments realize that there may be advantages from collaborating. Japanese Prime Minister Shinzo Abe's stance on China's BRI has evolved from reticence to acknowledging the potential synergies, and in May 2018, the Japan Bank for International Cooperation proposed that a joint Japan-China consortium build a high-speed railway system in Thailand. If the project goes through, it would be the first time contractors from both countries work together on an infrastructure project in a third country. Further, both governments plan to establish a public-private council to discuss common infrastructure projects.
Whether these early signs of cooperation can be built into something more meaningful will depend on both sides' ability to compromise. Japan's largest concerns surrounding the BRI have centered on the initiative's opacity, governance, and debt risks. These concerns have not disappeared, and Abe will hope that he can persuade the Chinese side to resolve them. At the same time, it is likely that China will seek a more moderate stance from Japan with regard to its initiatives that aim to hedge against China. These include Japan's Free and Open Indo-Pacific Strategy, as well as the Asia-Africa Growth Corridor which has been conceived in collaboration with India.
The negotiations that may lead to these compromises have a long way to go and many obstacles to overcome; but a suitable backdrop now exists for them to finally commence. Japan and China, as well as South Korea, have reached a point where there is a growing need for them to adopt unified stances, particularly surrounding trade (all three nations are subject to Trump's trade wrath) and denuclearization on the Korean Peninsula. This creates opportunities to come to the table and discuss a whole range of issues, including the one of whether to compete or collaborate over infrastructure.
Ravi Prasad is a Yenching Scholar at Peking University and Research Associate at the Institute for New Structural Economics. He is the co-founder of www.beltandroad.blog.