The Dominican Republic Abandons Taipei for Beijing
Thanks to Chinese diplomatic pressure, Taiwan is left with only 19 diplomatic allies now.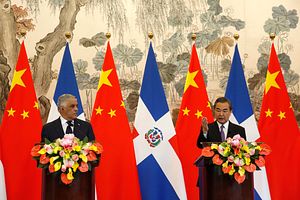 On May 1, the Dominican Republic, a small Caribbean nation, formally established diplomatic ties with the People's Republic of China (hereafter referred to as China) and, at the same time, ended its nearly 80-year relationship with the Republic of China (Taiwan). It might be only a small victory for Beijing, but it is undoubtedly a harsh blow to Taipei, which is now left with only 19 diplomatic partners.
On the morning of May 1, Chinese Foreign Minister Wang Yi and Dominican Foreign Minister Miguel Vargas signed a joint communique in Beijing. According to the communique, the Dominican Republic "recognizes that there is but one China in the world, that the Government of the People's Republic of China is the sole legal government representing the whole of China, and that Taiwan is an inalienable part of China's territory." Hence the Dominican Republic "severs 'diplomatic relations' with Taiwan as of this day."
After the signing ceremony, Wang said that the newly established relations mark "a new chapter in the history of bilateral ties."
"From now on, China has one more good friend in Latin America with whom we could help each other," Wang added.
Vargas emphasized that the Dominican Republic has made "a correct and important step" to join the other 175 countries that have already established diplomatic ties with China. He vowed that the Dominican Republic will no long have any formal contacts with Taiwan.
"Deeply upset by China's actions," Taiwan's foreign ministry noted in a statement on its website.
Strongly condemning China's "objectionable decision to use dollar diplomacy to convert Taiwan's diplomatic allies," Taiwan warned the Dominican Republic as well as the international community that China tended to deliver false promises of investment and aid as a diplomatic lure.
The statement claimed that Taipei had noticed the interactions between the Dominican Republic and Chinese since 2016.
In a desperate attempt to maintain the bilateral ties since 1941, Taiwan had sent its diplomats to the Dominican Republic for talks and highly increased its financial assistance since 2016. According to Taiwanese media, in February Taiwan provided the Dominican Republic with 50 high-mobility multipurpose wheeled vehicles, also known as Humvees, reportedly costing $2.36 million.
However, the total value of Taipei's assistance, together with the 50 Humvees, can hardly compare to Beijing's financial incentives.
Beijing reportedly promised to provide the Dominican Republic a $3.1 billion investment package, involving seven infrastructure projects. Furthermore, bilateral trade between China and the Dominican Republic reached $2 billion a year, making the Dominican Republic the second-largest trading partner for China among the Caribbean and Central American nations.
Thus, it's understandable that the Dominican Republic finally decided to abandon Taiwan without too much struggle.
Flavio Dario Espinal, legal consultant to the Dominican presidential office, made it clear at a news conference, saying that "History and socioeconomics reality now force us to change course," according to the Associated Press.
As The Diplomat has noted, since Taiwan's President Tsai Ing-wen came into office in 2016, Beijing has been using salami-slicing tactics against Taipei without any hesitation.
With neither financial nor military power comparable to that of Beijing, it seems that an increasingly isolated Taiwan under the Tsai administration is in trouble.