Timor-Leste's Corruption Challenge
Addressing corruption will be the key to achieving economic development and cementing democratic principles.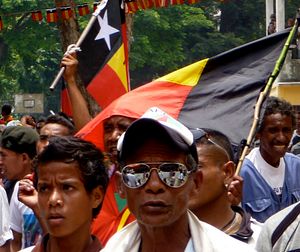 Through the fresh election held on May 12, Timor-Leste has for the time being put an end to nearly half a year of political impasse. The Aliança de Mudança para o Progresso (AMP), led by former Timorese Presidents Xanana Gusmão and Taur Matan Ruak, won an absolute majority in the National Parliament with 34 seats out of 65, which gives them the constitutional right to form what is likely to be a stable government for the next five years. There will, however, also be a strong opposition in the Parliament, led by FRETILIN with 23 seats, the Democratic Party with five seats, and (depending on how they see their future) the newly-created Frenti Dezenvolvimentu Democrátiku (FDD) with three seats.
While the new government is likely to provide stability, whether it will also exhibit good governance remains to be proven. It faces not only a strong opposition, but also what may be an uphill battle to deliver on political promises made during a month of somewhat fierce and divisive campaigning. In the eyes of many, the government's commitment to fight corruption in order to fully invest in its people's wellbeing, and in economic diversification, will be its greatest challenges.
Timor-Leste's oil and gas revenue has been the primary engine of public expenditure, with almost 80 percent of the annual state budget derived from that source. However, oil revenue has dropped significantly from $1 billion in 2015 to just $400 million in 2016. Furthermore the current active oil and gas fields will be depleted in the next few years. In total, $14 billion has been spent in the past 10 years, but relatively little has been done to elevate the wellbeing of the people and drive economic development. Unemployment remains high, the poverty level is still at 30 percent, GDP per capita is just $1,239, and malnutrition of children stands at 40 percent. Education levels remains low and health service is poor.
These glaring economic and social statistics are underpinned by corruption, which remains an endemic disease and a significant contributor to the distortion of economic development, the stifling of investment, and the growth of social inequality and poverty. These issues exemplify the United Nation's identification of corruption as "the single greatest obstacle to economic and social development."
More precisely, the United Nations Office on Drugs and Crime has elegantly noted that:
Corruption attacks the foundation of democratic institutions by distorting electoral processes, perverting the rule of law and creating bureaucratic quagmires whose only reason for existing is the soliciting of bribes. Economic development is stunted because foreign direct investment is discouraged and small businesses within the country often find it impossible to overcome the "start-up costs" required because of corruption.
In the past 10 years corruption has been found to be pervasive in Timor-Leste, as evinced in the surveys conducted by country's Anti-Corruption Commission and the steady increase in the number of corruption cases investigated and leading to convictions every year involving high profile players, be they politicians or key position holders in public institutions. There is also widespread discontent among the public that lucrative government contracts only benefit the elites and their networks. The public moreover has to deal with bureaucratic hurdles when systems do not work well, and ordinary people are left in a bind, needing to give a bribe even just to get work done or to obtain licenses they need.
Internationally, Timor-Leste ranks 91st out of 180 countries rated by Transparency International in 2017. Worse still, the World Bank report on "Ease of Doing Business" ranked Timor-Leste 178th out of 190 countries.
Timor-Leste, like any other new and young democratic country, has focused on consolidating a democratic culture and democratic institutions, including by putting in place numerous anti-corruption institutions. However corruption has nevertheless grown tremendously. As Samuel Huntington noted, corruption"seems to be most prevalent during the most intense phase of modernization of a country" and generally declines with the institutionalization of democracy. This does not, however, mean that the problem of corruption will automatically solve itself over time.
Timor-Leste's fifth Constitutional Government formulated development goals in the Strategic Development Plan 2030, and also adopted United Nations Millennium Development Goals (MDGs) as the guiding path for development. However, the experience of economic development to date has shown that major contributing factors to missed development and non-oil economy diversification goals are corruption, poor governance, the general quality level of government programs, and the quality of the people who implement the programs.
Addressing corruption is therefore a key to achieving the objectives of the Strategic Development Plan 2030 and the MDGs. The incoming seventh Constitutional Government must put much greater emphasis on transparency, accountability, integrity, and efficiency in public expenditure. Moreover it should work harder to address governance bottlenecks, move quickly on measures which can help to stamp out corruption, and at the same time develop, as a priority, an integrated national anti-corruption strategy that will build in strong preventative measures and allow the public to track public expenditure.
Timor-Leste is a democratic country, in which the principles of democracy such as respect for human rights and the upholding of the rule of law, economic rights, and social and cultural rights, are brightly enshrined in its Constitution. Corruption not only hinders economic development and non-oil diversification, but also hinders the process of fulfilling the civil, political, economical, social, and cultural rights of every citizen as demanded by these democratic principles.
It is no exaggeration to say that the performance of the incoming government in fighting corruption will determine the future of the country not only in the next five years, but also in the decades to follow.
Jonas Guterres is an anti-corruption practitioner. He is former Advisor to Office of Commissioner at Anti-Corruption Commission of Timor-Leste (CAC), and former recipient of United States Timor-Leste (USTL) scholarship funded by the State Department. This article does not represent the views of any institutions that the author is affiliated with.