US Intelligence: North Korean Nuclear Test Site Modifications Would Take 'Weeks to Months' to Reverse
North Korea is making significant alterations to its nuclear test site, but none that are irreversible just yet.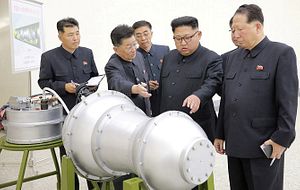 Ongoing modifications to wind down North Korea's northern nuclear test site at Punggye-ri would take "weeks to months" to reverse, according to a new U.S. intelligence assessment described to The Diplomat by a U.S. government source.
The assessment is based on activity observed as of late last week and is supported by the U.S. Defense Intelligence Agency (DIA) and the National Geospatial Intelligence Agency (NGA). Starting in 2016, North Korea tested five presumed fission bombs and claimed to have tested a powerful two-stage thermonuclear device in its largest test in September 2017.
NGA has been closely monitoring North Korea's Punggye-ri test site since North Korean leader Kim Jong-un's announcement to the 7th Central Committee of the Workers' Party of Korea on April 20 that North Korea would "discontinue nuclear test[s]" because the "mission of the northern nuclear test was to come to an end." Kim also noted that North Korea would stop testing its intercontinental-range ballistic missiles.
Ahead of the April 27 inter-Korean summit, NGA published a separate assessment that North Korea had started dismantling significant components and structures associated with nuclear test observation at Punggye-ri.
The North's decision not only came before Kim Jong-un's first meeting with South Korean President Moon Jae-in at Panmunjom, but also before the first-ever U.S.-North Korea summit meeting, scheduled for June 12 in Singapore.
Satellite imagery published by 38 North on Monday, May 14, provides open source corroboration of significant changes near the northern, western, and southern portals leading into the underground tunnel network that composes the Punggye-ri test site.
North Korea watchers Jeffrey Lewis and Dave Schmerler of the Monterey Institute of International Studies have also observed the dismantling of structures around the Punggye-ri test site. Lewis and his team created a 3D model offering an impression of the horizontal tunnel network at the Punggye-ri test site.
North Korea's work to dismantle structures at the test site comes ahead of its announced intention to invite journalists and experts from China, Russia, South Korea, the United States, and the United Kingdom to observe the site's dismantlement between May 23 and May 25.
A report published over the weekend by the country's outward-facing state media, the Korean Central News Agency, said that the event would be to "ensure transparency of discontinuance of the nuclear test (sic)." U.S. President Donald Trump called Kim's move a "very smart and gracious gesture" in a tweet.
The same report specified the process for the site's disabling, which would include the collapsing of tunnels — presumably with explosives — and the removal of observation and research facilities. U.S. intelligence assessments suggest that much of the latter work will have been completed prior to the arrival of foreign observers.
The DIA and NGA assessments leave open the possibility that North Korea's planned modifications to the test site next week could significantly extend the period of time necessary to restore Punggye-ri to a usable state.
Following Kim's announcement that the Punggye-ri site will be shut down, international observers, including the Comprehensive Nuclear Test-Ban Treaty Organization's (CTBTO) executive secretary, Lassina Zerbo, welcomed the announcement. Kim has not specified whether the CTBTO will be invited to verify the closure of the nuclear test site.
North Korea is the only country known to have conducted full-yield tests of nuclear weapons in the 21st century. Kim Jong-un has not expressed an interest in signing the Comprehensive Test-Ban Treaty, which has yet to enter into force.
With six nuclear tests, North Korea likely has a useful set of data that it can use to continue refining its nuclear weapons designs. The U.S. intelligence community has, with consensus, determined as of mid-2017 that North Korea is capable of mounting compact nuclear weapons atop its larger ballistic missiles, including its intercontinental-range ballistic missiles that threaten the continental United States.
In the same report to the Workers' Party of Korea's 7th Central Committee where Kim first acknowledged that Punggye-ri's mission had come to an end, that North Korean leader, for the first time, publicly acknowledged that North Korea had conducted sub-critical nuclear weapons testing.
North Korea has not made any concessions on its sub-critical testing program, which will likely continue at its Nuclear Weapons Institute. Continued sub-critical testing would allow North Korea to maintain its existing weapons and refine their performance.