US Navy Commissions New Littoral Combat Ship
The U.S. Navy commissioned its latest littoral combat ship on May 26.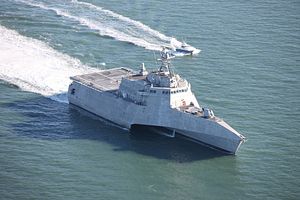 The U.S. Navy commissioned its latest littoral combat ship (LCS), the USS Manchester (LCS-14), during a ceremony in Portsmouth, New Hampshire on May 26, the service said in a statement.
The future USS Manchester is the 12th littoral combat ship to enter service with the U.S. Navy and the seventh of the Independence-variant design.
The ship successfully completed acceptance trials in December 2017 and departed the Austal USA shipyard in Mobile, Alabama for the commissioning ceremony in Portsmouth on May 5.
The ship will now transit to its homeport in San Diego.
LCS are divided into two separate classes, the Independence and Freedom variants. Construction of the latter variant is spearheaded by Lockheed Martin at Fincantieri Marinette Marine shipyard in Wisconsin, while the former is led by Austal USA in Alabama.
Independence-class LCS feature a trimaran hull and a larger flight deck than the Freedom-variant design, enabling Independence-class ships of this particular variant to carry two rather than one SH-60 Seahawk helicopter, or one larger Ch-53 Sea Stallion helicopter, next to a number of unmanned aerial vehicles. Furthermore, the Independence-class also has a larger fuel capacity and a wider operational range.
As I explained earlier this month:
Using an open architecture design, both LCS classes — the mono-hull Freedom and trimaran-hull Independence variants — are modular, reconfigurable warships that can be fitted with interchangeable mission packages providing specific capabilities for surface warfare (SUW), anti-submarine warfare (ASW), and mine countermeasures (MCM) missions in the littoral region.
"The future USS Manchester is a modern marvel and an example of the increased capability that comes from a true partnership with the American industry," said Secretary of the Navy Richard V. Spencer during the May 25 commissioning ceremony. However, as I reported on a number of occasions, neither LCS variant is capable of engaging in high-intensity naval combat, as a January 2018 report by the Pentagon's office of Operational Test and Evaluation notes:
Survivability testing and preliminary analyses on both LCS variants continue to demonstrate that neither LCS variant is survivable in high intensity combat. Although the ships incorporate capabilities to reduce their susceptibility to attack, testing of analogous capabilities in other ship classes demonstrated that such capabilities have limited effectiveness in high intensity combat.
Twenty-nine LCS ships have been awarded as of May 2018, with 13 LCS delivered to the U.S. Navy, another 13 in various stages of construction and testing, and three LCS in pre-production states. The service accepted delivery of its latest Independence-class LCS, the future USS Tulsa, last month.
Earlier this month, the Freedom-class USS Milwaukee (LCS 5) conducted a live-fire missile exercise to test a new weapons system, the so-called Surface-to-Surface Missile Module (SSMM), a 24-shot vertical launch system designed to engage smaller surface targets in close proximity to the LCS with AGM-114L Longbow Hellfire missiles. The system is expected to be installed on all LCS in the coming years with initial operational capability slated to be achieved by the end of 2019.