Was Merkel's Visit to China Successful?
While achieving a united front on the Iran nuclear deal, Merkel stood firm on human rights issues.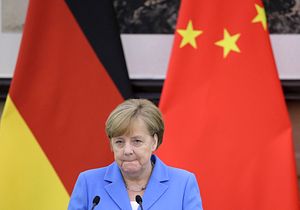 On May 25, German Chancellor Angela Merkel wrapped up her two-day visit to China. This visit — coming immediately after her visits to the United States and to Russia in recent weeks —  was short yet fruitful for Merkel.
As various media outlets noted earlier, the Iran nuclear deal (from which U.S. President Donald Trump just withdrew) and human rights issues (traditionally Beijing's most hated topic) were the top two priorities on Merkel's agenda.
Merkel's visit showed that she made a successful balance this time by achieving a united front with China on Iran deal on the one hand, and standing firm on human rights on the other.
On the Iran nuclear deal, China and Germany tend to be on the same page. Both countries have emphasized that this deal is "an important outcome of multilateralism" on multiple occasions. Thus, it's not surprising that her visit to China highlighted both countries' resolve to keep the deal intact.
Immediately after the meeting between Xi and Merkel, in an attempt to save the Iran deal, China and Germany, together with Russia, Britain, and France, on May 25 held their first meeting in Austria, without the United States.
According to Xinhua, during their meeting on May 24, Chinese President Xi Jinping and Merkel called for further cooperation on global governance and multilateralism.
Xi said: "We would like to promote global governance and multilateralism together with Germany within the multilateral frameworks."
"China and Germany must set an example of win-win cooperation, take the lead in promoting China-Europe ties, advocate the new type of international relations and override the ideological differences for cooperation," Xi added.
On the human rights issue, given that Trump didn't even bother to mention the topic during his visit to Beijing last November, Merkel's efforts this time, in comparison, are particularly remarkable.
Ahead of her visit, Merkel had vowed to press China on human rights — particularly about the case of Liu Xia, the widow of late Nobel peace laureate Liu Xiaobo. It seemed that she kept her promise. According to Radio Free Asia, despite her extremely tight schedule, Merkel met with Xu Yan, wife of a Chinese rights lawyer, Yu Wensheng. Xu later posted a photo showing her standing with Merkel together, without elaboration.
Under the charge of "incitement to subvert state power," Yu has been detained for months without access to a defense lawyer or family visits.
As for Liu Xia, under house arrest, she has been reportedly on the verge of breakdown.
"Now, I've got nothing to be afraid of. If I can't leave, I'll die in my home," Liu told her friend during a phone conversation in early May. Thus, Merkel's recent visit was seen as Liu's "biggest hope."
During a joint press conference with Merkel, Chinese Premier Li Keqiang said that China and Germany could talk about individual human rights cases on an equal basis. His remarks have been regarded as a hint that Beijing is willing to solve Liu's case under Merkel's pressure. If Liu is finally allowed to leave China for Germany, Merkel's contribution should not be overlooked.