In China, Germany's Merkel Talks Trade, Syria, and South China Sea
Germany wants China to play a larger role in resolving international issues such as the Syria crisis.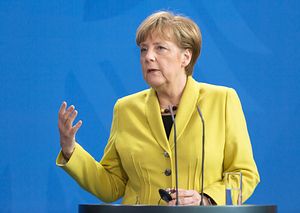 German Chancellor Angela Merkel visited China on October 29 and 30, marking her eighth visit to the country since she assumed office in 2005. Ostensibly, her trip was aimed at deepening the economic ties between China and Germany, but security and strategic issues – from the Syria crisis to the South China Sea – also featured on the agenda.
Germany has been concerned about China's economic slowdown, and for good reason – last year, China was Germany's fourth biggest export market, representing nine percent of total German exports, according to Reuters. Ironically, Germany's robust exports to China (something other countries have envied as they eye their trade deficits with Beijing) are now a headache for Berlin, as total trade between China and Germany plummeted nearly 12 percent in the first six months of 2015. Meanwhile, there's some nervousness in Berlin that the United Kingdom, with its avowed wish to be China's "best partner in the West" could siphon off some of China's economic largess.
Accordingly, trade was the major purpose of Merkel's visit. While she was there, primarily meeting with Premier Li Keqiang (though she also met with Chinese President Xi Jinping), the two sides signed 15 business deals worth a total of roughly 20 billion euros ($22 billion). That included deals for China to purchase helicopters and passenger planes worth over $16 billion from Airbus. Merkel also voiced support for a China-EU bilateral investment treaty, which would serve as a precursor to a China-EU free trade agreement.
However, Merkel made it clear that China still has work to do in opening its economy. She lent her support for China's bid to be granted market economy status in the World Trade Organization – which would help alleviate penalties on imports from China – but noted that first "China has to do some homework, for example in the area of public procurement."
Merkel also expressed interest in signing an agreement with China wherein both sides agree not to conduct industrial espionage, noting that the United States and United Kingdom already have such agreements with China. Germany and China agreed last year to cooperate on innovation, which is a key part of China's plan to rebalance its economy, and a prominent feature of the 13th Five Year Plan, if China's recent fifth plenum was any indication. However, German firms have been reluctant to commit to innovation partnerships, largely due to concerns over China's weak record in protecting intellectual property rights.
Though economics may have been high on the agenda, it wasn't the only issue Merkel wanted to discuss with her Chinese hosts. Right now Germany – along with the rest of Europe – is scrambling to deal with an unprecedented influx of migrants and refugees, particularly from war-torn Syria. Germany alone expects to receive up to a million migrants this year.
China has played a low-profile role in the refugee crisis and the Syria crisis in general, but there's potential for it to do more. In particular, China's close relationship with Russia (which has been conducting airstrikes in Syria in support of the embattled Assad regime) and its friendly ties with Iran (one of Assad's strongest backers) give it a unique role to play in peace talks.
Accordingly, while in China, Merkel called it "urgent" to find a "diplomatic political solution" to the Syria crisis. Beijing has long said that a negotiated peace is the only way out of the Syria crisis, and Li reiterated China's commitment to that end. "The most important thing is to seize the opportunity to implement a political resolution and set up an equal, inclusive and open political dialogue," Li said.
Merkel also nudged China on Afghan stability, noting that many of the refugees arriving in Germany are actually from Afghanistan. "China's good contacts with Pakistan and Afghanistan could perhaps contribute to reconciliation," she said. "That's one of our expectations."
Li said that China is "deeply concerned" about the refugee crisis and "will continue to make our constructive contribution to the solution of the Syrian conflict." However, lest anyone expect China to take a hands-on role, Li emphasized his belief that "the European Union and Germany, with the efforts of the international community, have the ability to address this challenge."
Merkel also touched on the ever-thorny issue of the South China Sea. Her visit took place during an eventful week for the maritime disputes in the region, with the U.S. sending a destroyer within 12 nautical miles of one of China's artificial islands and the Permanent Court of Arbitration ruling that it has the jurisdiction to proceed with the Philippines' case against China.
It was almost inevitable that Merkel would have to say something about the disputes, given the way the South China Sea has dominated headlines this week. What she did say was carefully calibrated not to anger China – but not to condone its actions, either. She called the disputes "a serious conflict" and gently offered her support for a legal solution: "I am always a bit surprised why in this case multinational courts should not be an option for a solution." Merkel also emphasized Germany's "wish that the sea trade routes stay free and safe, because they are important for all."
When asked about Merkel's comments in a routine press conference, Foreign Ministry spokesperson Lu Kang did not explicitly reference the German chancellor. He did, however, reemphasize that China had no intention of taking part in arbitration, particularly the Philippines' current case.  "Of course, we have noted that some countries, based on consensus through consultations, submit their disputes for international judiciary or arbitration," Lu said. "However, there [are] plenty of means to settle disputes, and international arbitration is just the one of them."
Overall, Merkel's message to China went far beyond economics – she encouraged Beijing to play a larger role in solving international issues (and solving them in accordance with international law). As Merkel put it in a speech in Beijing, "We believe that China's stature and its voice are increasing in many areas… That naturally applies to security and foreign policy, too."