What the Trump Administration's Decision to Disinvite the Chinese Navy From RIMPAC 2018 Means
The U.S. takes a long overdue step, but don't expect it to shift the needle on how China behaves in the South China Sea.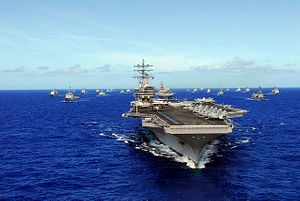 The U.S. Department of Defense has, after five years, decided to rescind an invitation for the Chinese People's Liberation Army-Navy (PLAN) to participate in the U.S.-led Rim of the Pacific (RIMPAC) exercises this year. The biennial exercises are the largest multinational naval exercise in the world and China participated for the first time in 2014, after the Obama administration extended an invitation in 2013. The PLAN's invitation to participate in RIMPAC 2018 was issued by the Trump administration in May 2017.
The decision to disinvite the PLAN is being framed explicitly as a U.S. response to China's ongoing militarization of the South China Sea. In recent months, China has deployed electronic warfare equipment and possibly surface-to-air missiles to the Spratly Islands, where it maintains seven artificial islands, and it has, for the first time, landed an H-6K strategic bomber on Woody Island in the Paracels.
"The United States is committed to a free and open Indo-Pacific. China's continued militarization of disputed features in the South China Sea only serve to raise tensions and destabilize the region," Department of Defense spokesman Marine Lt. Col. Christopher Logan remarked on Wednesday, announcing China's disinvitation.
"As an initial response to China's continued militarization of the South China Sea we have disinvited the PLA Navy from the 2018 Rim of the Pacific (RIMPAC) Exercise. China's behavior is inconsistent with the principles and purposes of the RIMPAC exercise," Logan added.
Chinese Foreign Minister and Vice Premier Wang Yi, in Washington, D.C., for unrelated meetings with U.S. officials, told reporters that the move was "very unconstructive" in China's view. Wang met with U.S. Secretary of State Mike Pompeo. "We hope that the U.S. will change such a negative mindset," Wang added.
Wednesday's move has been a long-standing proposal and was a subject of debate within the Obama administration in the lead-up to the 2016 iteration of RIMPAC, which took place after China's construction of artificial islands in the Spratlys had become public. Writing for The Diplomat in 2015, after the PLAN had been reinvited to RIMPAC, I wrote in favor of disinviting the PLAN in an attempt to condition China's behavior in the South China Sea.
Depriving China of its access to RIMPAC doesn't dangerously degrade U.S.-China military-to-military contacts, which are both broad and deep without the PLAN's participation in the multilateral exercise. Besides, China's past record at RIMPAC isn't exactly stellar. In 2014 — the PLAN's first RIMPAC — China sent a Type 815 auxiliary general intelligence surveillance ship to spy on the exercise.
What might have been effective back then is far less likely to have any effect today. Following the July 2016 ruling by the Hague-based arbitral tribunal in the Philippines' favor in its 2013 case against China over maritime entitlements in the South China Sea, Beijing observed that reputational costs for its militarization and other activities in the region were negligible.
Though a disinvitation from RIMPAC is a public rebuke by Washington of Chinese behavior, it almost certainly is insufficient to induce any change in China's behavior. China will continue to deploy military materiel to its seven artificial islands. Last week's landing of a bomber on Woody Island will likely be followed up soon with military aircraft visiting airstrips of Fiery Cross Reef, Subi Reef, and Mischief Reef—the so-called 'big three' of China's seven artificial islands.
What's notable about Wednesday's action is that the Department of Defense chose to describe it was part of an "initial response," suggesting that the administration may follow up with a series of other moves. For instance, we may see the United States not only increase its already considerable presence in the South China Sea, but engage in bilateral exercises with regional partners and allies more frequently. Similarly, the administration may choose to increase its military interactions with Taiwan, pressing on a particularly raw nerve for the Chinese leadership.
The timing of this disinvitation to RIMPAC is notable too. It comes just one week before the annual Shangri-La Dialogue in Singapore, Asia's premier security conference that'll bring together senior defense officials from around the region. U.S. Defense Secretary Jim Mattis will be in attendance and may use the podium at Shangri-La to offer a strong rebuke of Chinese activity in the South China Sea, where the U.S. continues to privilege freedom of navigation for military and civilian vessels alike.
Finally, the RIMPAC disinvitation should not be seen in a vacuum. It comes at a time of considerable uncertainty in U.S.-China ties and it remains clear that despite the recent thaw in the brewing trade war, relations between Beijing and Washington are poised for a significant period of turbulence — one that may become elongated. The Trump administration has openly identified China as a strategic competitor and adversary in its December 2017 National Security Strategy and its January 2018 National Defense Strategy documents. Now we're beginning to see some of what that'll mean in practice.