What's in Thailand's First Hosting of the US Pacific Partnership Exercise?
A closer look at the significance of another first in the US exercise this year.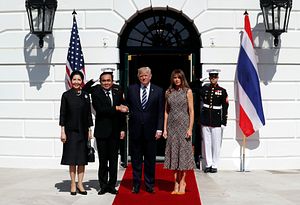 This year, in another first for one of the United States' exercises in the Asia-Pacific, Thailand is hosting Pacific Partnership for the first time. The move, which has been confirmed by Washington, has significance for the U.S. regional exercise as well as for the security component of the U.S.-Thailand alliance.
As I have noted before in these pages, there are a whole range of multilateral U.S. or U.S.-led exercises involving Asia in general and Southeast Asia in particular, from the Cooperation Afloat Readiness and Training (CARAT) exercise to the smaller Southeast Asia Cooperation and Training (SEACAT) exercise.
Pacific Partnership began in 2006 following the December 2004 tsunami that devastated parts of South and Southeast Asia. Led by the U.S. Navy in partnership with other like-minded countries and non-governmental organizations, Pacific Partnership sees the combined force visiting several host nations every year and engaging in a variety of local outreach efforts to improve boost capabilities, build relationships, and bolster collective ability to respond to natural disasters.
The list of countries under the annual Pacific Partnership missions tends to feature a mix of continuity and change depending on the year, and there have been some distinguishing features over the years including the utilization of a multinational command-and-control structure (this year with a deputy mission commander from the United Kingdom and a mission chief of staff from Australia) and the highlighting of the role of women in HA/DR efforts in line with the Women Peace and Security Program initiative.
This year, in yet another first for the exercise, Thailand is hosting Pacific Partnership for the first time since the exercise series' first iteration in 2006. According to the U.S. Navy, the Thailand-hosted aspect of the exercise kicked off aboard the expeditionary fast transport ship USNS Brunswick in Pattaya, Thailand, on May 20, and would include a series of exchanges, activities, and an exercise focused on disaster response. The Vietnam mission in Nha Trang, which has also attracted headlines in this round of the Pacific Partnership Exercise, will also continue through June 2 as this is ongoing.
Specifically, according to a U.S. Navy statement, over 130 military personnel from the United States, United Kingdom, and Australia would conduct medical, dental, and veterinary subject matter expert exchanges at Queen Sikrit Naval Hospital while working side-by-side with local professionals and non-governmental organizations on HA/DR readiness. The civil affairs team from the U.S. Army 83rd Civil Affairs Battalion would also conduct a joint symposium and tabletop exercise with Royal Thai Armed Forces counterparts to practice disaster response and preparedness.
Thailand's inclusion in Pacific Partnership is not surprising. Thailand is already at the center of several regional U.S. based initiatives in various areas, and there had also been previous conversations between the two sides about how Bangkok could play an even more prominent role in issues such as HA/DR. This is also just the latest in a series of steps we have seen on the defense side within the U.S.-Thailand alliance despite the challenges it continues to face under U.S. President Donald Trump so far, including some expansion with respect to exercises as well as progress with respect to some weapon sales and aspects of maritime collaboration more generally (See: "Managing the US-Thailand Alliance in the Trump Era").