A New Digital Iron Curtain in Cambodia?
An ongoing media crackdown looks set to intensify even further.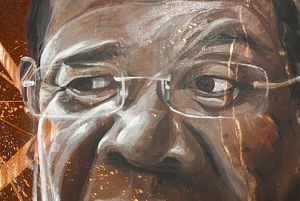 Cambodia's love affair with smart phones, the Internet, and online publications has been intense. It has enabled ordinary people to catch up in a communications and publishing world that had become cheap, accessible and rich in alternative views.
Access to online news portals and social media platforms, in particular Facebook, has also become more important as independent media wilted under government pressure amid disputes with an energized tax department and the dissolution of the main opposition party.
Now, in a move seen as a further attempt to control unwanted messages, all domestic and international Internet traffic in Cambodia will soon pass through a Data Management Centre (DMC) created by state-owned Telecom Cambodia.
This followed a request by the Ministry of Post and Telecommunications and Prime Minister Hun Sen, who heads into an election bereft of any capable opposition on July 29.
According to media reports it was signed off on May 2, and it will enable government minders to monitor and censor government critics and exert controls over Western business interests that face stiff competition from a rapidly expanding China.
The government denies any kind of crackdown on free speech and insists it is acting legally through the courts in order to circumvent a "color evolution" and other internal security threats posed by 'foreign forces', a reference to the United States.
It's a line that has found support from the Phnom Penh Post's new owner Sivakumar S. Ganapathy (Siva) who is also the managing director of AsiaPR in Malaysia and has close ties with the billionaire former chief minister of Sarawak, Taib Mahmud.
Asked why he bought the newspaper after a year of negotiations amid a crackdown on the media, he replied: "That's news to me."
"After two weeks in Cambodia owning a newspaper, I am not in a position to answer if there's a media crackdown in Cambodia or not."
The PPPost was sold after a multi-million-dollar tax bill was slapped on its previous owner, Australian miner Bill Clough. The Cambodia Daily closed in September, also following a tax dispute, 32 radio frequencies have been shuttered and journalists jailed on espionage charges.
New lese majeste laws, similar to Thailand have also been imposed and two people have already been charged, including a high school principal, over Facebook posts.
Highlighting the animosity between press and government, a journalist following the story for the regional publication Asia Times says he contacted an Interior Ministry spokesman for comment, who repeatedly shouted: "You are a pig from a European country."
Cambodia plunged 10 places on the annual press freedom index compiled by Reporters San Frontier in 2018, and what's left of the independent media is limited in scope by a lack of resources, audience reach, and language.
According to the Cambodian Center for Independent Media (CCIM), what remains of the best of independent media includes Radio France International (RFI), online outlet Thmey Thmey and the Women's Media Center, which has its own radio license.
The EU-funded 2017 CCIM report also found the daily English language newspaper "Khmer Times has garnered a reputation, particularly among foreigners, as being biased in favor of the government" but added that "… print's ongoing decline is counterbalanced by some newspapers' relatively strong digital versions".
That could change with the introduction of DMC-monitored online traffic.
Under the plan, all local and international data will be transmitted through DMC from September at one cent a minute "to stabilise the state's revenue from the telecommunications sector". That could also prove cost inhibitive and curtail Internet use.
"If this new measure serves to prevent security attacks and cyber crime then it is a good move as we have seen online fraud committed in Cambodia," Director of the Cambodian Centre for Applied Philosophy and Ethics, Pa Chanroeun, told local media.
"But if it is to assist the government in effectively monitoring data transmitted through the Internet then it is a threat to the rights and freedoms of its users."
Luke Hunt can be followed on Twitter @lukeanthonyhunt